Diana & David's Holden Beach Wedding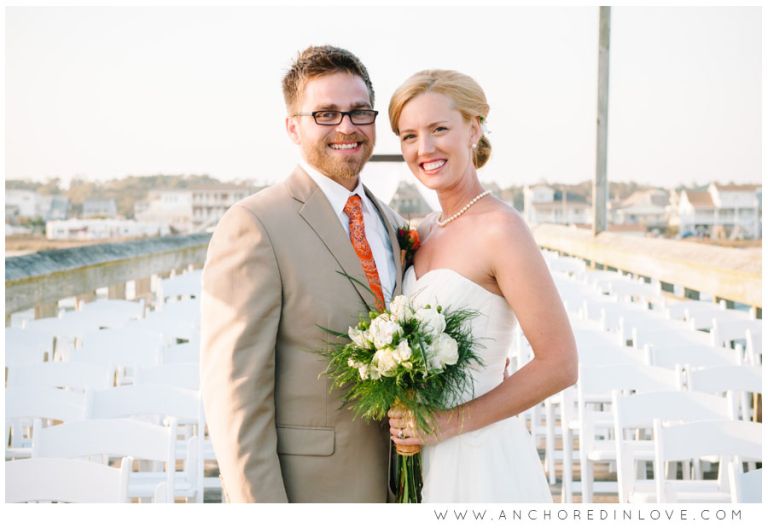 Diana & David's wedding was one I had been looking forward to since the day I first received an email from Diana.  Both are high school social studies teachers who met in Peru (of all places!) even though they work in the same town. Diana's emails to me were full of personality and spunk!  I knew I was going to love them before we had met in person, and during the engagement session we had so much fun getting to know each other I had to keep remember to take photos lol.  They are full of interesting facts and love history!  David also mentioned several times his passion for beer.  David and Diana, especially David, love craft beer.  He had beer included in the proposal and the " Third Vogage" beer was to signify our third step: First we dated, then engaged, and the third voyage was marriage.
When asked about why they selected the Holden Beach Pier as their venue, Diana said  "It is over the ocean. We love feeling small in the big universe; We are small yet we are part of this wonderful universe. We would have loved a beach wedding, but wanted the privacy of the pier. My dad's best friend owns it. We love that our family and friends will be close beside us as we take our vows.  (David made) a curtain structure to open so I am hidden until I walk through. We are not doing a before look so I would love the moment of first looks of both of us caught."
The ceremony was so beautiful I have to confess I cried several times!  Afterwards the couple danced on the sand and shared a special beer before heading to the reception.  They parked down the road and made a grand entrance, walking in hand in hand to the cheers of their friends and family.  The reception was full of eclectic and thoughtful touches.  One of my favorite details was the mix matched vintage plates that also served as favors for the guests.  Once guests were finished eating, they were invited to use the wash station to clean their plate and bring it home as a gift.  They spent the rest of the evening sharing hugs and laughter with friends and family and dancing to live Bluegrass under the stars.  Congratulations Diana & David!  We wish you a lifetime of happiness!