Emily & Garin's Wedding at The River Room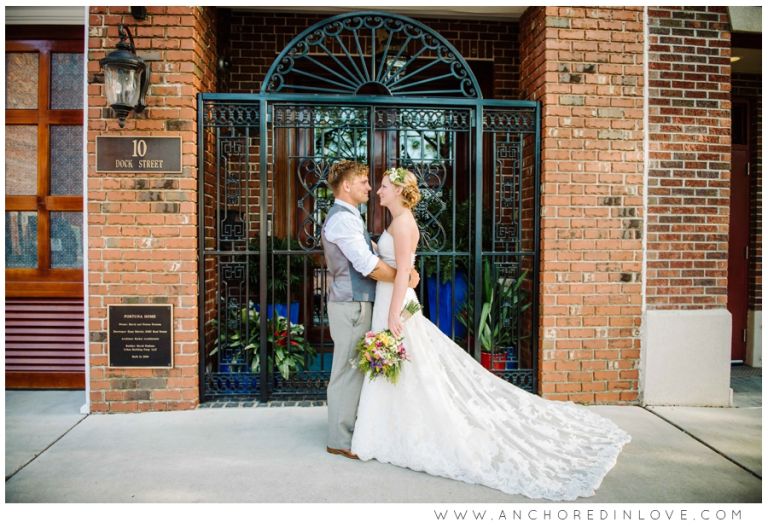 Emily and Garin are one of the worlds cutest couples!  They have a really cool story of how they met!  If you haven't seen it, check out their engagement photos and video here.
Emily is a bride after my own heart!  I loved her wedding style so much!  There were so many details that I would use in my own wedding, from the vintage looking mint bridesmaids dresses, to the colorful bouquets and flower crown!
I met her at a house her family had rented in downtown Wilmington and enjoyed watching her and her wonderful family and bridesmaids ready for the wedding.  Her sister is a hair stylist and helped do Emily's hair.  I wish her sister lived in town because every time I have seen Emily she has amazing hair, I am pretty jealous lol!  After I left the ladies, I headed to the RiverRoom, to meet up with Garin and then we headed to a spot a few blocks away for the first look.
The first look really set the tone for the day.  Garin was undone by his bride's beauty and they shared a tender moment before parting until they shared their vows.  The ceremony site was decorated by Garin with beautiful greenery and a homemade arbor.  I love how the arbor helped frame the couple!  After the ceremony, we spent a lovely evening enjoying the beauty of downtown Wilmington, a gorgeous sunset and celebrating Emily and Garin's new life together as husband and wife!  I couldn't be happier for them and we wish them all the happiness in the world!