Sarah & Thomas's Topsail Beach Wedding Highlights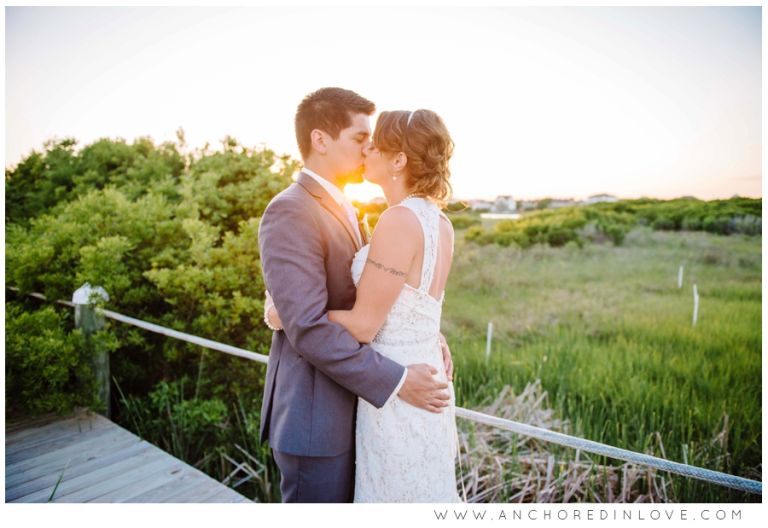 Planning a wedding can be stressful, as any bride knows, but planning in NC from Seattle is a whole different animal!  Believe it or not, Sarah was one of the most relaxed and blissful bride I have ever worked with.  Her wedding day was not only lovely, but very well organized and all the handwork and organization beforehand paid off!
My favorite moment of the wedding had to be when we snuck away from the reception to take a few sunset photos.  It was so romantic and absolutely perfect!  Sarah and Tom were the kindest most thoughtful bride and groom.  It was a true honor to be their photographer!
Here's what Sarah has to say:  Everyone has absolutely fallen in love with Anchored in Love! Your photos have brought us and continue to bring us, our family and friends such joy! I'm happy that I spent time on the shot list and with the order we took the photos in (photos before ceremony, post ceremony photos, and sunset photos). Everyone was prepped the night before with explicit instructions to there or be square for photos, it was good to be firm. I also had two friends who knew all of the family help gather people, a must. Things I would change: Wish I would have been more deliberate in getting group photos with Tom and I….that's hard though because it's a whirlwind:) 
Favorite Vendors:
Milner's Catering:  THE SH%T! They had to change up a lot of things last minute and were absolutely amazing! TARA IS A SUPER STAR! We booked them almost 2 years out and Tara was always there, we met twice in person and not once did I doubt she would take care of us. Food was awesome! Staff was friendly, responsive, Chef is frickin' amazing! Prices absolutely reasonable!
B.A.P's Nails:  They were able to accommodate all 13 of us at one time! We brought food and bubbles and even had a table set-up for us. Very friendly and reasonable prices.
L&L Tent:  They were great. Would order from them again. Tent weddings, order walls if you aren't sure about weather because you are charged 2nd delivery fee. The staff was efficient, friendly and responsive!
Lighthouse Beer:  Keg for wedding-awesome.
nSalo:  The salon was perfect and so worth renting limo to take us to Wilmington. The salon was essentially our the entire time, the stylist did a great job meeting the requests/expectations of all the gals, even mom was happy:) the bride loved it:)
VIP Limo:  AWESOME! Gave us a price break too! And the driver offered to pick up keg and cake while we were getting our hair done!!! So great!
Castle Hayne Farms:  We bought all of our flowers from here, so worth it! I emailed them my request and they had everything ready and it's so cheap! And it was fun arranging the night before with my favorite gals, great excuse to get some alone time!!
One Belle Bakery:  Gorgeous cakes, reasonable prices! We actually ran out of cake! People wanted thirds