Victoria & Jonathan's Liberty, NC Wedding Highlights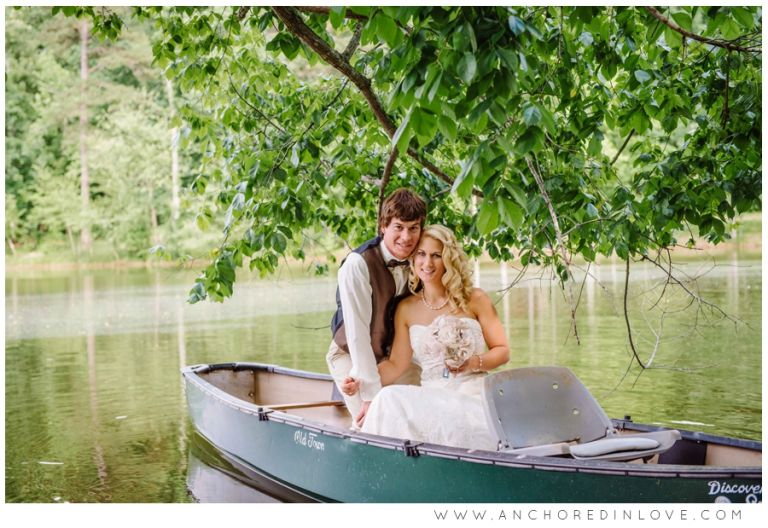 I can't believe that it was 11 months ago that I first met Victoria and Jonathan (or Jonny as Victoria lovingly calls him) at their engagement shoot at Greenfield Lake.  A few weeks ago they said "I do" under blue skies surrounded by loving friends and family and a beautiful lake.
There were so many things and moments I adored about this wedding!  Here are a few: – Victoria's father had passed away and she wore his pin on her dress.  It was a beautiful way to honor him and keep him near her on her wedding day. – The adorable bird houses on the stumps that lined the aisle were so cute! – The groom made a beautiful arch for the ceremony and I love how it framed them as they said their vows! – The bravery of the the bride and groom to board a boat (pre-ceremony!) for photos after their first look.  It was magical! I am so incredibly happy for Victoria and Jonny!  I asked Victoria to give me some of her insight on her wedding day and she wrote me back after her honeymoon.  The poor things got sick while on their honeymoon!
My advice to future brides vacationing in the Dominican Republic: DON'T EAT or DRINK the entire time you are there. The beginning of our husband and wife adventure has been pretty sickly, literally lol.
Anyways, I am happy to provide some details although we did not use many vendors as we did most of the details ourselves since we were on a tight budget.
Rentals: Happy Rentz
Coordinator: Family Friend
Caterer: KFC
Dj: DIY
Bakery/cake provider: Wal-mart bakery
Florist: DIY
I am so glad I was brave enough to get in the canoe/boat for pictures! They turned out so beautiful and are probably my favorites 🙂
Advice to future brides? Save money where you can because the day comes and goes so quickly …no need in getting in debt for four hours worth of celebration. Point being, we basically homemade everything and it turned out just fine. Advice for future brides would be to hire a good photographer because once the happily ever after is over all you have is the photos! I am so glad we got lucky with finding you! I love the photobook 🙂