Courtney & Blake's Abilena Plantation Wedding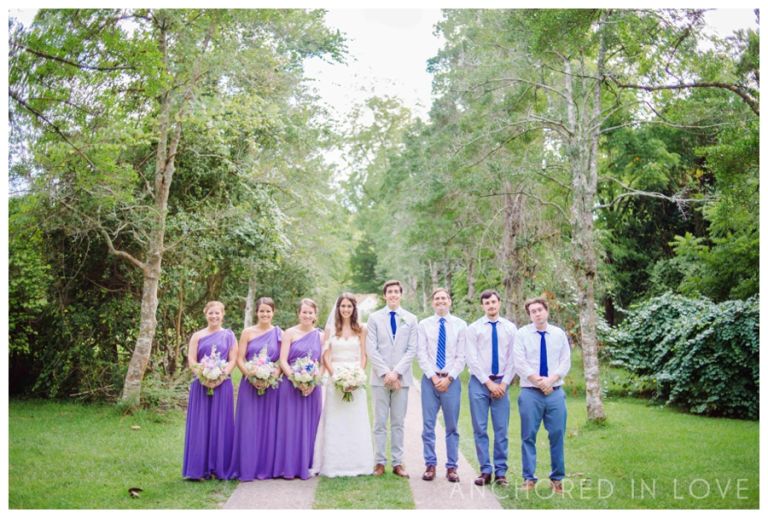 I am so happy for Courtney and Blake!  Their destination wedding was held at
Abilena Plantation
in New Bern North Carolina.  These Kentucky natives had their closest friends and family join them for a week of sun and fun before tying the knot on the waterfront lawn overlooking Spanish Moss trees and a beautiful blue sky.
The plantation was a perfect location for a wedding.  The front drive was so long and charming leading to a gorgeous historic home.  Behind the house was a perfect party spot with a pool, Jacuzzi, and below a lawn and dock.
Here are some of my favorite things from this wedding:
–  I loved all the beautiful vintage furniture rented from Charming and Quaint Events.  These ladies were so sweet and I loved how sophisticated the furniture made the pool area look!
–  Courtney and her dad win the award for
best first look
ever!  Her dad actually requested that I had the song butterfly kisses playing on my phone while Courtney came out.  Oh my, I sure did get teary eyed lol.
–
Abilena

Plantation
is an ideal spot for a destination wedding!  It had plenty of room for guests and enough entertainment on
site
that you didn't even need to leave!
Courtney was kind enough to share some of her thoughts on her wedding and vendors:
–
Geneva Kolb Party Perfection Weddings + Events
– Planner (Geneva made the day go so smoothly, and was on top of everything. She took away all of my wedding day worries. Geneva along with Charming and Quaint were able to bring my vision to life, everything was so beautiful).
–
Charming and Quaint Event Rentals
– Rentals (I worked mainly with
Charlotte who
was absolutely incredible and could not have been more helpful! I can not say enough good things about charming and quaint)
–
Jenny's Cupcakery
out of
Cary, NC
– Baker (Blake has a lot of
allergies, so
his cake was grain free, egg free, dairy free AND completely delicious. I don't know if you were able to have a piece of cake or not, but his cake was incredible, even tasted better than my traditional cake)
–
Two Chefs Catering
(also was able to create a meal that was organic and meet Blake's dietary restrictions and the food ended up being delicious.)
Also, John
from
Abilena
was very easy to work with and had the venue looking amazing for the big day. It was so nice having the entire wedding party stay there for 4 days.
Blake and I are so in love with all of the pictures from our wedding day. You truly did an unbelievable job! The pictures brought us back to the happiest day of our lives and it felt like we were reliving it all over again. We will cherish these photos forever. Our families were also so excited and thrilled with how they turned out. My dad had been watching the slideshow on repeat for days – ha-ha 🙂
Advice for future brides – Make the list of photo groupings you want and send it to you BEFORE the wedding day. When I had to recreate my list for you after losing it, I had forgotten to include a couple of groupings that I really wanted.
Thank you so much Kelly! The photos are beyond gorgeous and we could not be happier with them!