Fraleane and Jason's Beau Rivage Plantation Wedding Photo Highlights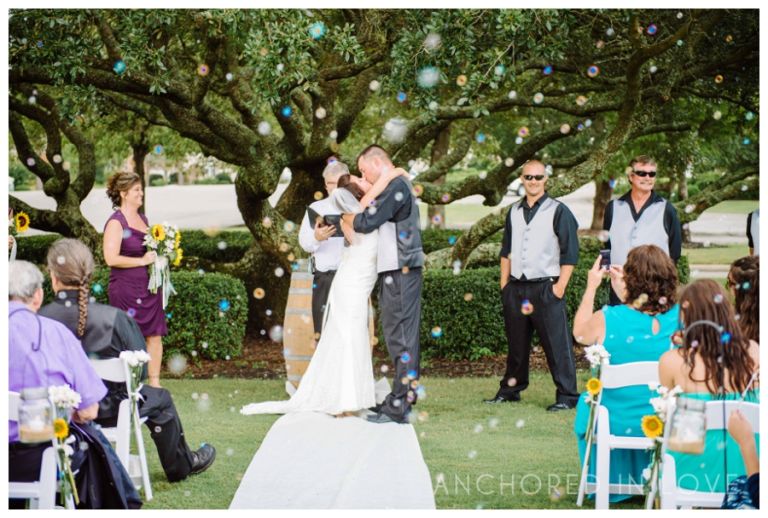 As I have shared when we blogged Fraleane's Bridal photos I just love Fraleane and Jason!  We had so much fun shooting their wedding at the beautiful Beau Rivage Plantation!  There wedding was full of heartfelt love between the couple and their friends and family!  One of our favorite moments was their bubble exit after their first kiss!  If you haven't seen our previous post with Bradley's amazing video check it out here: http://anchoredinlove.com/2014/10/16/fraleane-jason-beau-rivage-wedding-video/
Fraleane
was kind enough to tell us about her vendors and what she loved about them:
–
The coordinator
was a girlfriend that we are trading services:) I'm coordinating her wedding in November
– Flowers – bulk ordered from SAMS and bridesmaid, Holly, put together
– Caterer –
Middle of the Island
– absolutely loved them!!!
Very
simple and easy and the best food ever!
– DJ –
JoD
Franklin, he is from back home in Bessemer City- does a lot of DJing there
– Hair and Makeup – Beyond Expectations (Stephanie Gee, my sis, and Melissa Franklin
)
– couldn't have had anyone else, would have been a nervous wreck! Sis has done my hair and make up since I was a kid in beauty pageants and dance recitals
– Clean up –
The Butler Did It
– so awesome to not have to worry about tidying up after such a long, exciting day- she did a great job.
What I love about you guys:
–
From
our first meeting, I knew you love what you do- that meant a lot! And you love, love!
–
You
were both able to capture all the different emotions we both went through throughout the day
–
You
got my husband to take pictures!
And
smile
at
them!!!
–
Neither
of you
has been
ever 'in your face' – looking through the pics and watching the video was cool because most of the time, I didn't even remember you being close enough to get the pics/video- that made us not feel like we had to be 'on' we were just being ourselves- I love that!
– I love the
questionnaire you
sent before the wedding to learn all the intricacies in the families, so smart to do that
–
You
really seem to care –
it's
not just a job for you.
That
makes it so much more enjoyable for us!
Advice for future brides:
–
About
3 months out I decided to take everyone's advice and not worry over things- hard to do, but so worth it! If it doesn't directly affect you saying 'I do' to your best friend, it doesn't really matter. That day is going to happen, you are going to be married- if the flowers don't bloom, the food is cold or it pours rain, the day will still happen and it will still be the best day of your life!!!
– I say pick the things important to you to spend on. We wanted great food and a great photographer to have the pics/video- we spent less than $200 on flowers, we made all the
centerpiece
items for the reception,
etc.
– those were not as important, so we didn't spend a fortune on them.
– Include your fiance without being overbearing- this requires really listening- usually he
gives
subtle hints about the things he wants or cares about- the day for most is all about the bride and some fiances may not want anything to do with planning, but if you hear him mention something, do all you
can to make
it happen!