Blaire and Mark's Durham Wedding at The Cookery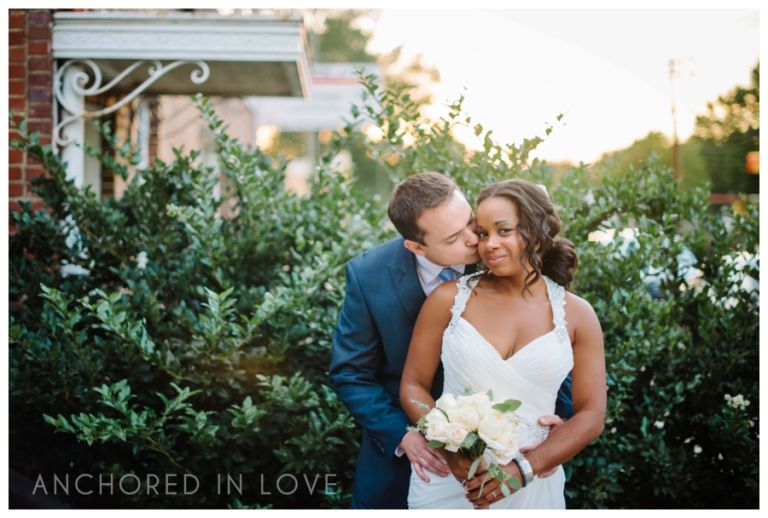 Sometimes I have to pinch myself!  I feel like I am the luckiest lady in the world to work with such amazing couples.  I almost feel like I should have paid Blaire and Mark to shoot their wedding because these two are the bomb!
There are so many things that endear me to them.  If you haven't seen their engagement
photos, check
them out
HERE
.
From the temporary tattoo favors (featuring S
tar Wars
, Doctor Who, and more!), to the Star Wars grooms cake, and many more personal touches, you could see their fingerprint on every element of their wedding!  Here are some more of my favorite things:
–
Blaire's
Dress!  Holy cow she is a bombshell!  You can tell how floored Mark was when he first saw her when you see the photo!
–  
The Cookery
was a wonderful venue for an intimate wedding.  The courtyard was a great spot for a ceremony and I loved how easily the flow was from the outdoors to the indoors.
– Mark's Brother did a great job officiating!  He added a fun tone to the ceremony
– The jumping of the broom was so cool!  Of course they nailed it!  Check out Blaire's air!
– One of the reason's Blaire is one of my favorites is how all night she kept asking me what time it was and then mourned at how fast the night was going.
Blaire
was kind enough to tell about her vendors and give some insights of her own, she has given me the best compliment ever!  Check it out:
Liz is amazing. She is professional, even-keeled and gracious. Without her help, I wouldn't have gotten down the aisle! So glad to know this powerful woman and call her a friend. I also enlisted the help of my amazing friends and family to help set up day-of. We are so blessed to have such supportive and helpful people in our lives!
Delicious! We had our tasting back and June and we're holding out for that Southern goodness for over three months! Our menu was classic, classy comfort food and we enjoyed every bite.
DJ: Teron and Takara Morris
Teron and Takara are long-time family friends and when we asked if they would help with the wedding, they not only said yes, but they jumped at the chance! They are true professionals, but they also
knew
 how to keep the party going, which is incredibly important to us. They (and the music) made the night!
Wedding and Groom's Cake: Walmart
Although I like cake, I don't LOVE cake. I actually didn't want a cake, but my mom insisted we have something for cutting
,
and I'm really glad we ended up getting one! It's a wedding tradition and I didn't have that many, so it was a nice addition to the timeline. And great pictures too!! 🙂 I think we paid $106 for both cakes total, so not a bad deal as far as wedding cakes go!
Dessert table (Pies, Cookies, Kettle Corn): Mother of the Bride, Leisa Huntley
Mom was also obsessed with the idea of a dessert bar. I love pies and kettle corn, so it was perfect! I saw folks with one mini pie in one hand, dancing on the dance floor. Hilarious!
Florist: Trader Joe's/Blaire Rodgers/Elizabeth Rodgers
Bought about $150 worth of
florals
from Trader Joe's in Chapel Hill, then some floral type, twine and pins. Made my bouquet and the boutonnieres, and Mark's sister Elizabeth helped make the corsages for the moms. We didn't have a ton of floral in the room because the Cookery's atmosphere is decoration enough. The historic scenery – brick, the metals, the Edison bulb string lights
…
didn't
need much at all!
Photographer: Anchored in Love
Anchored

in

Love

is

just that. All about the love! Sounds corny, but Kelly makes you feel comfortable, relaxed and beautiful. She somehow gets you out of the awkward I'm-taking-posed-pictures-right-now 

mode

to the holy-

moly

-I'm-so-in-love-and-pretty-much-Beyonce-right-now mode. Yes, I said she made me feel like Beyonce. Seriously though, she asks the important questions about your vision and truly cares about what you're imagining for your day. She then takes that information and creates a magic with that camera of hers. We are so lucky have had Kelly as our photographer and I will forever be indebted to Rita Morrison for referring her to us! Thank you so much, Kelly and team!
Advice:
 Make lists. Don't stress. Find something you really like, research it a bit, then buy it if it fits your budget and the look you're going for. Try not to toy around with 1700 ideas before choosing (aka Pinterest afflictions). It's too much! Pick one thing, cross it off your list and be done with it. Remember it's just one day in a lifetime of forever. Try not to focus on all the little details because they'll come together somehow. Promise! Remember to look up every once in a while and remember what is really happening. You are marrying your guy today! Spend time with him during the night and be sure to eat
…
and
have a few glasses of wine because you two deserve it!