Christina & Jonathan's Charming Backyard Wedding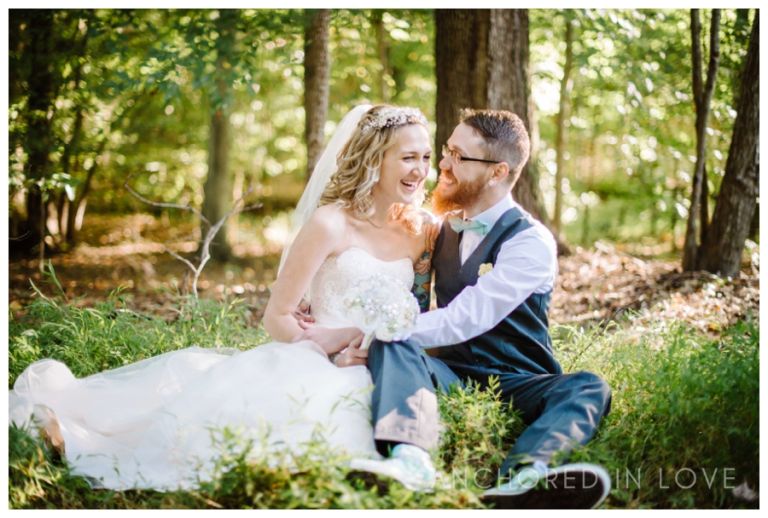 Photographer: Kelly Edwards
Ah, love!  I am so blessed to be a part of so many beautiful stories and I am excited to finally share some highlights from Christina and Jonathan's wedding!  These two captured my heart from the very first email!  They told me their story and shared some photos of themselves.  Their email was overflowing with joy and excitement to be becoming husband and wife.  Here is some of their story in Christina's own words:
"We met through the website Plenty of Fish. Super weird, but fate works in mysterious ways! I was living in Arizona at the time and he was in North Carolina. I was contemplating moving to NC to be closer to my family who lives in Raleigh. So with the help of my friend we made a POF profile to check out the "hotties" in NC. Nothing caught my eye, so I went along with life. Fast forward a bit and my phone notifies me that I received a message on POF. It was from Jonathan. After ignoring the message for three days (he reminds me often of this) I decided to message back. We clicked immediately. We started to talk every day, all day, through phone calls, texts, and plenty of Skype calls. I was falling in love with someone whom I've never physically met, but from the first time we talked I could imagine being with him. His birthday was coming up so I sent him a gift. It was bracelet quoting Star Wars. It was engraved with "I love you… I know." We couldn't imagine being with anyone else, although technically we were not physically together yet. I decided to take the plunge and drive across the country with my dog, Punch, to not only be with my family, but to be with my beloved. The rest is history."
Christina & Jonathan's wedding is a testament that you can have a lovely wedding at any budget!  They exchanged vows in the cool shade of Jonathan's parent's backyard.  There was tears of joy and laughter and lots and lots of love!  I really enjoyed shooting the bride and groom photos in the woods by the house.  I think they turned out so lovely!  Christina was kind enough to share some details about the wedding day and some advice for brides:
Wedding coordinator- Valerie Fox, our sister-in-law. For someone who stated that she had no idea what she was doing, she did an amazing job at keeping the ceremony and reception in order. She's the best.
Cake Provider: Ruth Renn, a family friend who makes really, really delicious cakes. She made a lemon cake for my birthday and I just knew that I had to have her be a part of our special day.
DJ- Kyle Fox, who was also our officiant and he is also Jonathan's brother. He's the coolest brother-in-law. He may be my only brother-in-law, but he's still totally the coolest. He made our wedding ceremony intimate, hilarious, and unique.
Caterer: Ralph Hutchins was our caterer. Since our ceremony was in the backyard and our reception was in the front yard, we were looking for a relaxed, backyard BBQ kinda feel. His pulled pork is seriously too good. I'm known to be a fast eater, but I ate that plate so fast I barely had time to savor it.
Since we were on a strict budget we tried to incorporate A LOT of DIY decor. My mom, Jessie Disney, helped me with our centerpieces by decorating the mason jars with burlap, twine, and cool-looking rustic stuff. Also, my maid of honor, Rebekkah, helped us with the centerpieces by providing us with the miniature pumpkins for each table and by sitting at the dining table for hours helping me make gift boxes for our guests. A lot of the decor came from items lying around our parents' homes, which is pretty cool since we were able to incorporate pieces of them into both our ceremony and reception. We also tried to have a "kid friendly" table by providing wedding-themed coloring books, a variety of candy, and glow sticks. Little did we know that the children would be tearing up the dance floor the entire time and were not so much in the mood to color. Who knew?
Our wedding was not the usual formal event, but it suited us perfectly, since we are not very formal people. It felt like a big yard party filled with our closest family and friends. We were able to wear our favorite type of shoes (Chuck Taylors), eat messy pulled-pork sandwiches, drink bottled sodas, and dance our booties off. It was genuinely a day that we will never, ever forget.
Anchored in Love exceeded our expectations. We were so worried we wouldn't be able to afford an experienced wedding photographer for our day, but Kelly went above and beyond to accommodate our needs in such a short amount of time. Not only is she one of the sweetest people I have ever met, but she captured our day in such beautiful, natural way. We are forever grateful!
If I could give any advice- don't worry about entertaining the youngins! As long as you have a dance floor, good tunes, and delicious cake you are good to go!
We currently have a lifetime's worth of leftover lollipops and coloring books 🙂