Angela & Gary's Southport Community Center Wedding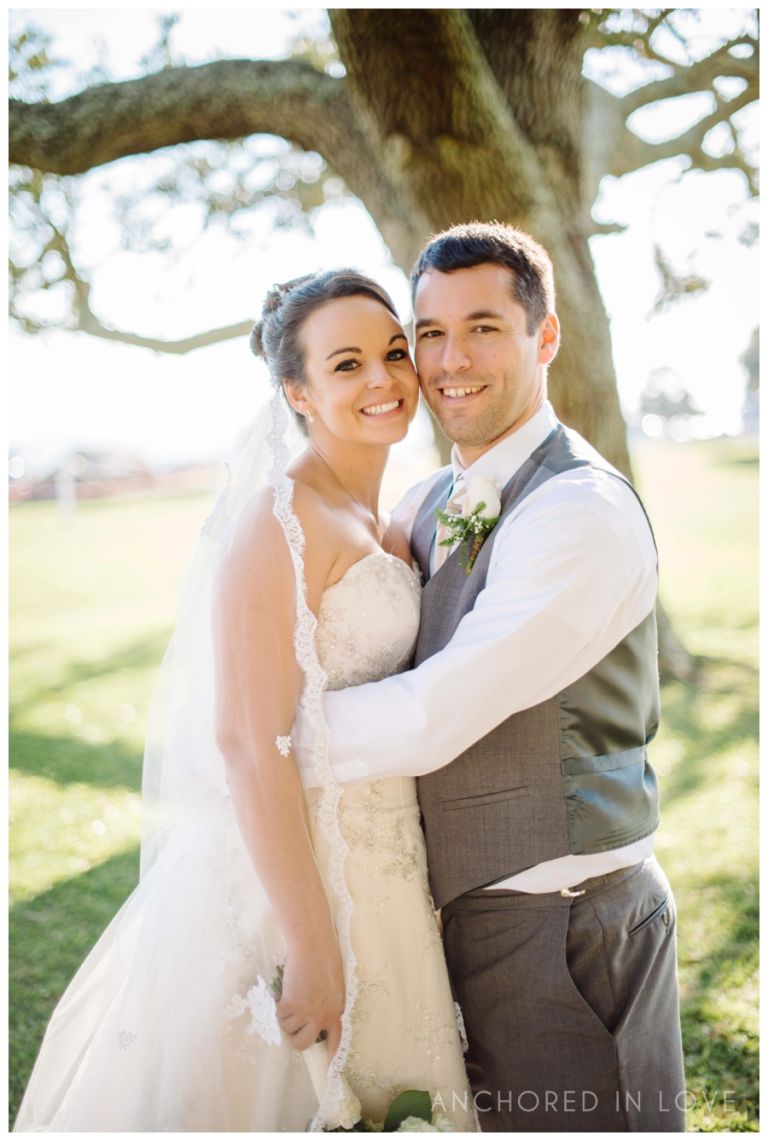 I love it when a wedding day ends and you know you have made friends for life with the bride and groom!  Angela & Gary's wedding was absolutely breathtaking and we loved every moment of it!  
There were so many thoughtful details that made this wedding unique.  Two of my favorites were the show stopping veil that Angela borrowed from one of her bridesmaid's mother!  The other amazing touch was the DIY yarn globes that Angela hung from the trees at the venue.  What a brilliant touch!  Angela was so sweet to describe her wedding experience with us.  Here is what she had to say:
When I first started planning, the photographer was one of the most important aspects of my wedding and I am beyond pleased with the final product. You made the entire process simple. It meant so much to me that you were able to meet multiple times before the wedding in order to be sure everything was organized. The open and friendly communication helped dissipate the stress of planning a wedding :). By the time we had the wedding I felt that you were a friend at our wedding, not just my photographer. Gary said Barret's joking helped keep all of the guys' attention, making it easier to take pictures. All the bridesmaids told me they loved you (Kelly) and wished you could have hung out after the wedding! Thank you to you and your husband for your hard work and beautiful art! I know I'm biased, but my wedding looks like it should be in a magazine thanks to you!
Here is my information regarding the vendors/venue etc….
           This venue is so naturally beautiful and quaint! The perfect place for my simple, romantic wedding!
             Jason did a great job! He was very kind, courteous and professional. Planning the music was simple, because he had templates online that allowed me and my guests to add songs. He also had forms regarding the ceremony and reception schedule and wedding party information.  He did an awesome job with both my ceremony and reception music and I would definitely recommend him!
              Terry Bland and her catering team did an amazing job. She met with me multiple times before the wedding. I not only hired her for catering, but she offered a very reasonably priced "day-of planning" service. Her assertiveness put me at ease and it was obvious that she was efficient in setting up and breaking down her materials quickly. I loved her right off the bat because she was friendly and professional! I loved her honesty and clarity in explaining floor layout, pricing etc. I felt that she genuinely wanted to give me a high-quality product at minimal cost. The food was all delicious, the wait staff was more than accommodating and Terry gave me a peace of mind throughout the wedding day as she tackled the thousands of small decisions that must be made the day of the wedding.  She went above and beyond and I would recommend her to anyone and everyone!
                Christina at Side Street Bakery was so sweet! She provided impressive customer service and very reasonable pricing. We chose cupcakes and 2 small cakes: red velvet with cream cheese. We requested no food die in our red velvet cake and she appeased our picky requests without question… So we had a brown red velvet cake that tasted delicious! I emailed her various pictures of the type of "look" I wanted for the cake/cupcakes and she not only  beautifully displayed her yummy creation, but she set it up and provided the cake and cupcake stand. I recommend Side Street Bakery for anyone's wedding needs, or if you have a sweet tooth and just want to stop by and grab some yummy treats!
        Lou's Flower World provided my bridal bouquet and the men's boutineers. I was not impressed with the service overall. My boutineers were pretty, but the rose and hydrangea bouquet was already browning when I picked it up the day before my wedding. There were about 12 roses in my bouquet; before the ceremony even started, I had already lost 3 roses and by the reception I had only 4 left. My Mother made the bouquets for the bridesmaids and all of the centerpieces. She ordered all of the flowers from the grocery store and they were beautiful! They were much fresher than the flowers from Lou's and exorbitantly cheaper. I would not recommend using Lou's flower shop for flowers.
        I love, love, love PURE salon. They had amazing customer service! My bridesmaids, mother-in-law and I got our hair done. We pretty much had the salon to ourselves. They made us feel at home. They let us bring in brunch and mimosas. They also provided us with coffee and delicious creamer choices! They worked until my hair was exactly what I wanted! I felt bad because I am not normally a high maintenance person, but I figured it was okay to be on my wedding day. I had difficulty communicating what it was that I wanted and they worked with me until it was perfect! I would highly recommend PURE salon!
DIY Frenzy and helpful hints!
           Gary and I had a long engagement so we had plenty of time to plan, budget and create! I love working with my hands so I really embraced the whole DIY opportunity!  My centerpieces were wine bottles that my family, my friends and I drank and collected. I scrubbed the labels off and spray painted them. I also collected different picture frames from goodwill and spray painted them, then put the table numbers on card stock in the frame. I would definitely recommend to all brides to really get an idea of the price difference between buying and making your items. DIY isn't always cheaper. The spray  paint  definitely added up, however, it was cheaper to make what I wanted them to buy it. Also, you can often find items cheaper if they aren't labeled as "wedding". Instead of ordering or buying lanterns, I made my own spheres out of yarn, corn starch and glue. It was very messy and very time consuming, but totally worth it!  We had the guys hang the spheres with fishing wire, it was quite whimsical! I had multiple chalkboards at the wedding. I just found cheap wooden decorations from hobby lobby and spray painted over them with chalk paint.  My mother bought all of the centerpiece flowers from the grocery store. I recommend any bride that has friends or family that can make a decent arrangement to go this route. You can pretty much order any flower at a grocery store and they will have the requested amount shipped into their store. I bought my tablecloths and linen napkins online instead of renting from the caterer. It is cheaper to buy these than it is to rent and you can either resell on a website like recycled bride or keep them and use them again. In addition to saving money, I had a few plans set in place that saved me stress and time. The most stressful part of the wedding day was the family pictures! I had a list of the family members that were supposed to be in pictures and what time they were supposed to be ready. I also had a timeline for the day before the wedding and the wedding. I sent all of this information out a week before the wedding. This gave all of the wedding party and family an idea of where they needed to be and when. The most important advice I would tell brides is, do not stress the small stuff! If it won't matter in a year, it doesn't matter now. The important parts of your wedding are not the decorations, the bridesmaids dresses or the flowers… It is the memories that you will remember. Take a breath and remember to live in the moment of the day, with the people you love. Don't forget to have fun! Don't worry if your wedding has some snafus…. Mine had plenty. Not only did my dress get caught on a nail on the wooden aisle, but one of our groomsmen passed out during our vows,  instead of stressing about these things I chose to laugh… They make for a unique and funny wedding day!