Colleen & Paul's Greenfield Lake Engagement Session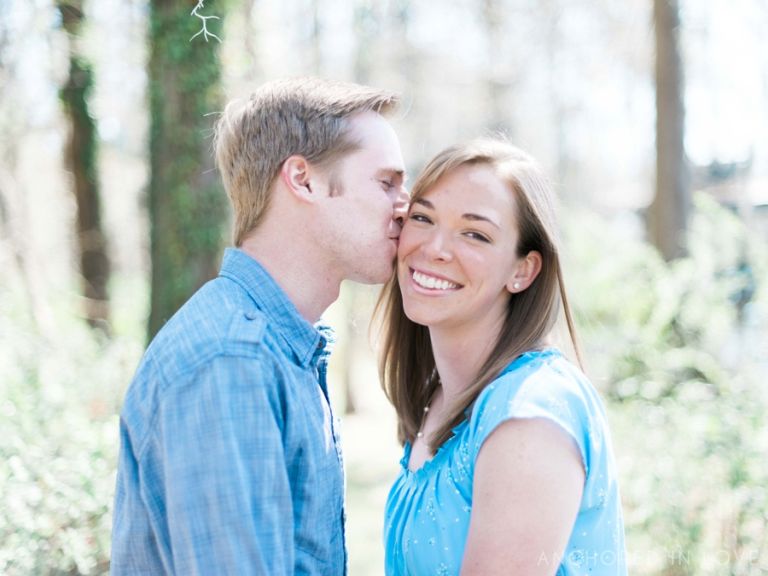 Photographer: Kelly Edwards
I absolutely love when clients add personalization to their shoot. For Colleen and Paul they added their love for Cheerwine and their precious pooch Piper into the mix for a fun afternoon in Greenfield Lake Park in Wilmington, NC. Colleen shared their story with us and we have to share how cute they are:
"As fate may have it, the New Yorker and the Georgian met in the middle at James Madison University in Harrisonburg, VA. We both wanted to go away to school looking for new adventures and we found each other! We lived in the same dorm at Gifford Hall and met each other on day one. Paul was in the marching band with a girl Colleen knew from home who happened to live two doors down from her. Many of us quickly formed a close-knit group of friends that ate almost every meal together and we all got to know each other very well."
Colleen from week one had a big crush on Paul but just stood back and was happy being his friend during his other relationships. 🙂 They started hanging out one-on-one and got to know each other pretty quickly. They had many lunches at Chick Fil-A together, watched movies together, or took long walks while everyone else in the dorm went partying in the evening. One December night, Paul took Colleen on another one of their walks and this time they snuck into the football stadium. While sitting on the 50 yard line of Bridgeforth Stadium, Paul asked Colleen if she wanted to "go steady" with him. Colleen of course said yes and they've been together ever since!"
Thanks guys for letting us share in your engagement joy! We can't wait for the wedding!