Sarah & Aaron's Wrightsville Beach Wedding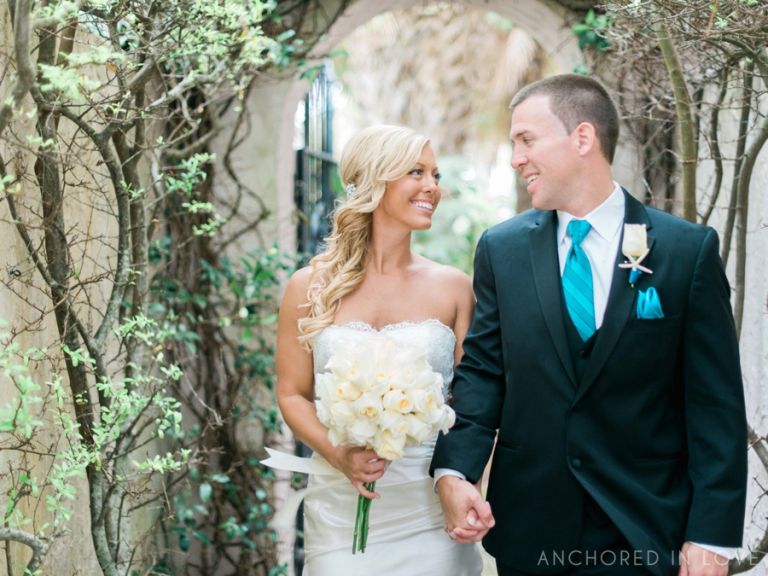 Photographer: Kelly Edwards
One of my favorite things about a wedding day is the pre-ceremony jitters. I just love seeing a bride and/or groom so excited and nervous about how monumental of a moment is taking place. Sarah and Aaron were both just too cute pre-ceremony. They were so excited and you could tell the moment they finally met eyes at the ceremony that they were finally at ease!
They had a lovely ceremony in a pink house covered in seashells on Wrightsville Beach in North Carolina. They exchanged vows in the spacious living room, that transferred into a great dining area after the ceremony. The bride walked down the aisle arm and arm with her beau accompanied by beautiful acoustic music played by Justin Hoke.
Although rumored to be good luck, the rain did not help us during photo/video time after the ceremony, but we were super lucky to have a gorgeous, slightly covered, courtyard beside the house and captured beautiful shots of the new husband and wife.
The couple had a thoughtful coffee bar and dessert bar for guests to enjoy. Lunch was catered by Sweet and Savory and the crab dip was out of this world!
The day ended with a cutting of the beautiful cake by Creative Cake Design.
We are so happy for Sarah and Aaron and thank them so much for letting us be a part of their wedding day!