Jenna & Dominic's Camp Kirkwood Wedding Highlights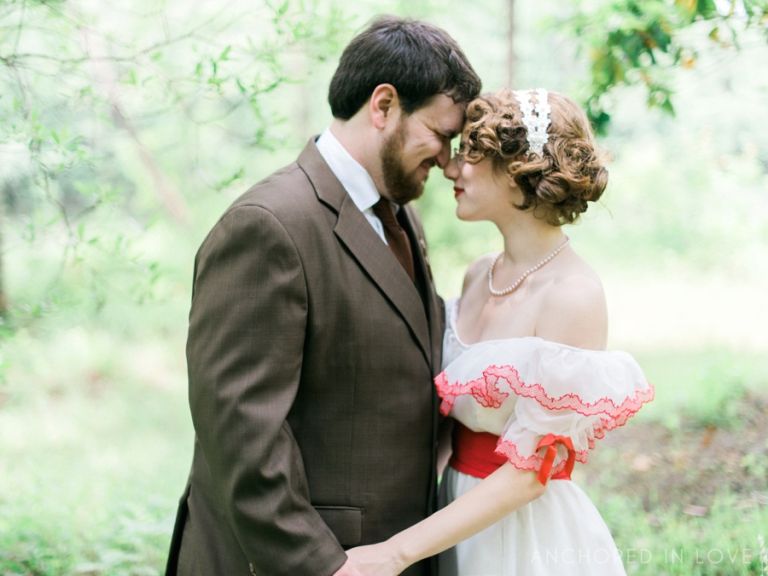 Photographer:  Kelly Edwards
What a special wedding Jenna & Dominic's Camp Kirkwood was!  It will forever be one that is dear to my heart.  I loved all the vintage details, the love of books, the love of God, the love all things nerdy, and a catering theme of Thanksgiving!  Jenna and Dominic were kind enough to share their thoughts about their wedding with us.  Here is what they have to say:
We did a lot of the work for our wedding ourselves, but the vendors we did have were amazing and wonderful to work with. Our caterer was Angie of Chris' restaurant, who made sure that all our food was delicious. The wedding cake was from Beanies Bake Shoppe in Burgaw. We can not say enough good things about it. Colleen was great to work with, they delivered and set up the cake for us, and it tasted fantastic.
The groom's suit was from Isaac's, in downtown Wilmington. If you are looking for an unusual suit for a great price, Isaac's is the place to go.
The brides wedding dress came from Elizabeth's Ladies Boutique in the Cotton Exchange. It's a small store, but it has plenty of selection. The reception dress came from Second Skin Vintage, on Castle St. Second Skin has an amazing selection of vintage clothes and an awesome owner.
I have been raving about Anchored in Love since before our wedding even started. You were easy to get in touch with and sent frequent reminders and tips to make sure we didn't miss out on anything. At the wedding Kelly fit right in with our guests and made everyone feel comfortable. The volume of pictures we got was staggering, especially since every one of them is beautiful, and worthy of framing.
I made the boutonnieres, corsages and the bouquets. Me and my mother made the pennant, which seemed like an endless process, but was worth it in the end. Since our venue was so huge, my groom, Dominic, wood burned directional signs.
Our families came out and helped do all the set up and decorating the day before, which we could not have appreciated more.
I loved how relaxed our wedding reception was, our guests had plenty of things to do and were free to wander and play games or go canoeing. It felt like we got to see and talk to everyone there.
(Dominic talking) My favorite moment was standing on the bridge waiting for the first look. Jenna and I had been doing all of the planning and we knew about everything that was going on and where we wanted everything. The only thing I didn't know about the wedding was how Jenna's dress looked and how she looked in it. It was incredibly nice to just have a moment to myself and to be able to turn around and see the one thing I had been waiting our entire relationship to see.
I was very skeptical about doing a first look, but in the end, I was so glad we did. The pictures we got from it were beautiful, and the wedding sped by so fast after the ceremony began that I was grateful that we had a few moments to ourselves.
Congratulations Jenna & Dominic!  We wish you a lifetime of happiness!