Michele & Luke's Brahma Ridge Farms Wedding Highlights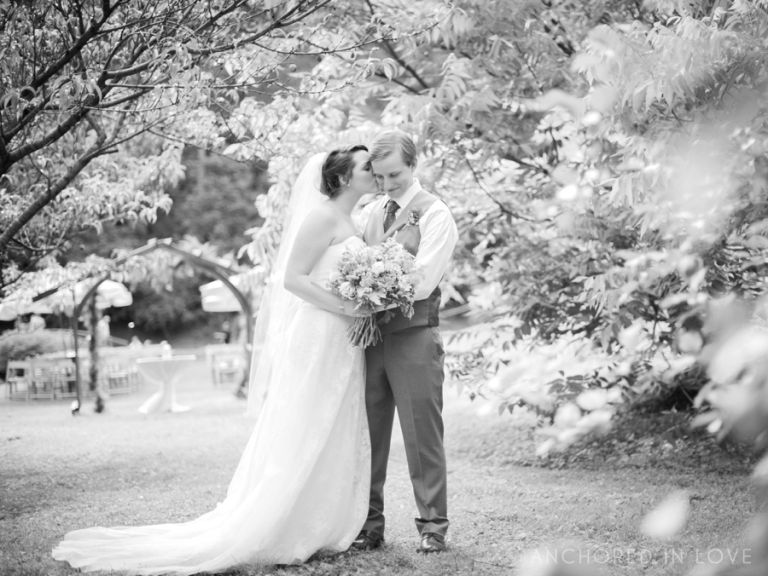 Photographer:  Kelly Edwards
Assistant: Jacqueline Day
Michele and Luke's breathtaking wedding in the mountains of the Appalachian was amazing!  They choose a perfect setting to celebrate their love and exchange their wedding vows.  Michele & Luke were kind enough to share their thoughts on their special day:
"Luke and I were lucky to work with some wonderful people. Rob and Holly at Brahma Ridge Farms treated us like family, both during the process of booking and figuring out the wedding, and for the weekend we stayed there. Our caterer, Saffron Fine Foods, provided some excellent cuisine—our guests were mentioning the fried chicken "lollipops" we had during cocktail hour to us for weeks afterward. We also loved that Saffron sourced all of the food for our wedding locally, something that we would have been unlikely to do anywhere besides Asheville. Our baker, Mara of The Baker's Box, created a beautiful—and delicious! — buttercream-frosted dream of a cake, and even decorated it with fresh flowers we had picked that day at Lady Luck Flower Farm. Our bouquets and boutonnieres were made by Shady Grove Florist, whose owner, Courtney, took our vague ideas and ran with them! Everything she brought us was fresh, in every sense of the word. Our DJ, Mitch of Mitch Fortune Entertainment, was so thorough—the wedding planning tools on his site are so helpful—and thoughtful. He came up with some great suggestions when we felt stuck, and we really felt we could step away and trust him to only play the kind of music we wanted to hear, which was such a relief. In general, our vendors were trustworthy, easy to work with, and added their own talents and creativity to make our wedding feel personalized and special.
Having Kelly and her assistant Jacqueline at our wedding was an absolute pleasure. I fully trusted their eye and ideas, and they made the hour-plus of taking photos feel like a breeze. Before the ceremony began, Kelly and Jacqueline traipsed all around our somewhat spread-out location in order to get photos of Luke, as well as photos of me putting on my dress and getting ready. They listened to what we had to say, but I also felt I didn't have to say much—Kelly and Jacqueline knew what they were doing, and we felt we could relax. Their bubbly and bright personalities made it even more fun to work with them, and Kelly's coaching made me feel like a model. Luke and I can't wait to see how Kelly and Jacqueline caught all of the little details of our wedding day.
Before Luke and I even set a date, my brain was overflowing with ideas for small touches we could add to make the wedding feel more our own. My favorite project, by far, was the escort cards that we hand made (with the help of some generous friends, of course). Each card contained an entry from an old thesaurus whose first letter corresponded with the first letter of the name of a guest. I tried to choose words that I thought suited everyone—like "lovely" for my mother, Laura. This turned out to be a time-consuming, but endlessly entertaining task. I really enjoyed getting to know some of Luke's distant relatives and friends that I hadn't met yet through the words he chose for them.
Luke and I also made the centerpieces ourselves—we slowly accumulated old books and brass pots in various shapes, from a teakettle to a beer stein, in the months leading up to our wedding day. We filled the brass vessels the day before our wedding with some fresh flowers we had picked at a nearby flower farm (what a way to spend a morning!). I was amazed by the flower-design skills of our helpful bridal party!
Other DIY touches throughout the wedding included large balls made of book pages that hung above the dance floor, and our favors, which included a Berger cooking (a Maryland specialty) in a personalized paper bag and a pickling kit that we put together using pickling spices, sachets, twine, and mason jars. It was truly a vision to see everything we had been working on for months come together on June 20th."
We asked Michele and Luke to share their favorite moments and this is what they had to say!
Michele:
"One of the most unexpected moments of the wedding day happened right before the ceremony was about to begin. I'd just raised a glass to my impending nuptials with my bridesmaids, but not much champagne made it into my unsettled stomach. I was feeling terrible nerves, which I didn't expect at all! I watched as my bridesmaids filed out of the covered gazebo and walk down to the arbor and felt my stomach twisting. But then, I saw my dad poke his head through the side entrance of the gazebo and I felt a flush of calm. He smiled at me, took my arm, and I felt sturdy again.
I cried throughout the whole ceremony and grabbed Luke's hands before we were supposed to. I wanted to feel him there next to me.
I loved seeing my extended family, who I'm really close to, get down on the dance floor. All of my cousins, aunts, and uncles were dancing, and it was a joy to see my mom enjoying herself after a stressful week. At one point, my cousins and uncles scooped up Luke in a chair and raised him above the crowd. Then they did the same to me, and, finally, to my mom. That was a truly hilarious and surreal moment. It was so much more fun than I could have imagined."
Luke:
"I'll never forget the sight of Michele walking across that meadow toward me. In that moment, the gut knowledge I'd been holding onto—that Michele was my bride—became real, material. She was a vision of beauty—my vision of it anyhow. Besides that moment, I was overwhelmed to see all the people I love suddenly in one place, mixing into a single mass of joy and supporting love. My two year old nephew danced with Michele's uncles, my college roommates, and family friends I'd not seen for too long. Looking around at the crowd, I could see all the facets of myself and Michele embodied. All our long-acquired quirks, mannerisms, and foundational relationships—the ingredients of ourselves—were there, talking and laughing with each other."
Michele's Parting advice to future brides:
"My advice to future brides would be to know when to trust your gut and your partner. We had been looking at booking the wedding in Maryland, because that's where my family is, but it was proving difficult to get a date when we wanted it. When I expanded our search to Asheville, a town we both loved that no one in our family or friend group was really acquainted with, the first place we visited was Brahma Ridge. We felt some trepidation as we wound our way through the backwoods of Candler, but as soon as we parked, took a deep breath, and stepped out of the car, we knew it was the place we wanted to get married, deep down in our guts. It was the first and last venue we visited in person.
I think it's also important to keep in mind that you cannot control everything, and nor should you want to! If you've done your homework and selected experienced vendors who match and know your taste, it is eventually such a relief to trust them to do their jobs and make your wedding as gorgeous as possible."
Thank you so much to Michele & Luke for sharing about your wedding day!  We wish you a lifetime of happiness!