Chris & Thuc's Asheville NC Wedding Highlights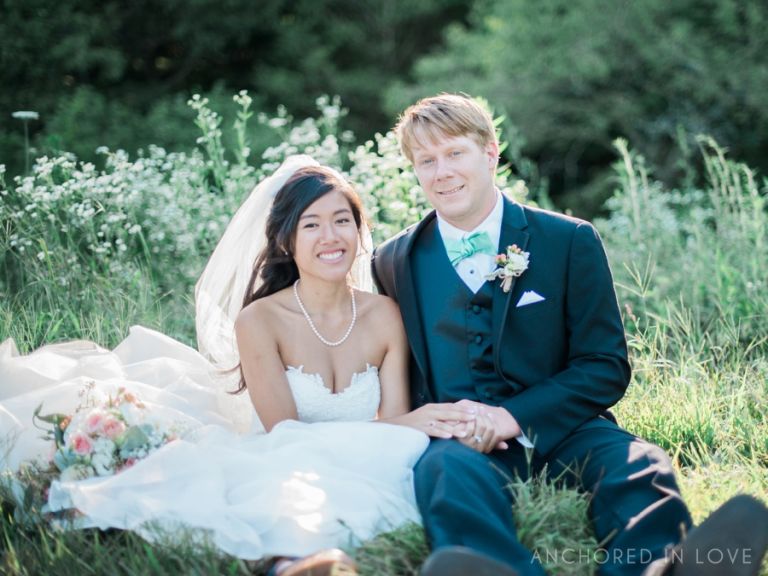 Photographer:  Kelly Edwards
Thus and Chris couldn't have picked a prettier location for their wedding.  I wish I could have bottled up the smell of the mountain air and Christmas trees.  Sawyer Family Farmstead is amazing!  The view of the mountains and lake from the ceremony site was spectacular and I think their wedding couldn't have been more perfect!  We are so thankful that Thuc and Chris shared details about their wedding day with us:
Our Vendors:
Blossom Jar – amazing job with the flowers. It was exactly what I had imagined it being.
Saffron Fine Foods (caterer) – Overall was okay with the service. We were disappointed with the signature drink (peach old fashion). The food was also okay.
Massive Booth (Photo Booth) – Loved the photo booth! Best quality photo booth that I have seen. Service was also excellent.
Tiffany's Baking Co. (cake) – Cake was beautiful and tasted delicious. Everyone seemed to like the cake. Tiffany was also very professional and diligent with communication throughout the wedding process.
Special Occasions DJ – Joe was very nice and a great DJ.
Anchored in Love (Photo/Video):  Kelly was great and very professional. She knew what to do to get everyone in line and also keeping track with time. We loved working with her. She also made me feel at ease with the entire photo sessions.
I'm lucky to have artistic friends to help with the DIY! My bridesmaid wrote on the chalkboards and also painted on wood for the decor. We also made mason jars wrapped in twine w/ candles in it.
The wedding day was just perfect. The weather was amazing and it was great seeing everyone together. That wedding location was everything we had hoped for. It was the awesome to have our dog of honor there with us all day. She definitely gained a few pounds from the wedding guests that sneaked her food. Ha-ha. Chris' favorite moment was relaxing with his wife after all of the wedding shenanigans (his words)!
I'm so glad that we made our corn hole boards for everyone to play with as well as having the photo booth. I think everyone really enjoyed dressing up and being silly to take pictures. My advice for future brides is that things are not as bad as it actually appears on the wedding day! All the things that are not planned will be the things that you sit back and laugh about.
Congratulations Thuc and Chris!