Mary & Juan's Southport, NC Wedding Highlights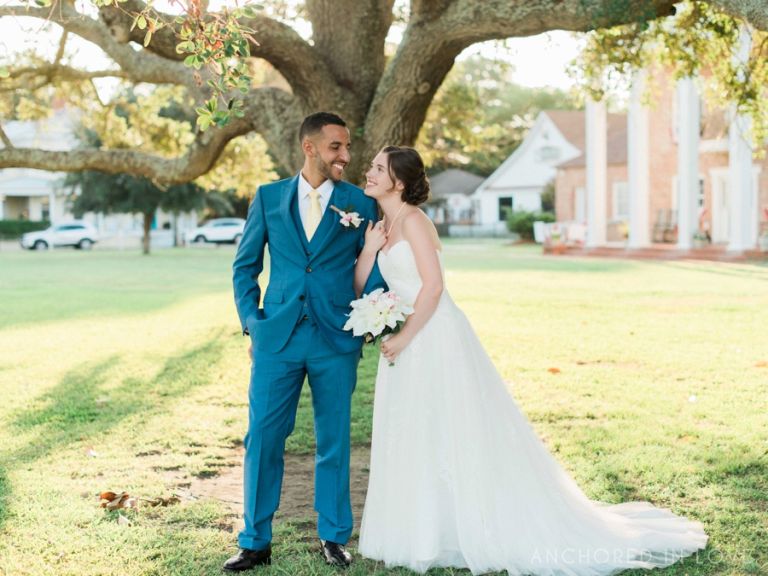 Photographer:  Kelly Edwards
Mary and Juan's wedding was not only incredibly beautiful, but also stunningly unique!  There was so much thoughtfulness and intention put into the details and the ceremony and I think everyone's hearts were bursting from the joy of it all.  There are so many favorite moments for me from the special meditation moment during the ceremony, to the out of this world vegetarian food, but I have to say that Juan surprising Mary by singing to her at the reception was out of this world!  I am so happy for this wonderful couple and am excited to finally share some highlights from their wedding day at the Southport Community Building in Southport, NC.  Mary and Juan were kind enough to share some thoughts with us, so here some info about their wedding day in their own words:
ART Catering did an absolutely WONDERFUL job with everything they provided! The linens were beautiful and the food was soon delicious! We had guest after guest come up to us at the reception to tell us that it was the best wedding food they had ever tasted! Juan and I wanted to share with our guests that vegetarian food can be equally (if not more!) delicious than non-vegetarian food and ART Catering definitely helped us accomplish that.
Our wedding planner Megan Masser was a complete life saver on our wedding day and all of the months leading up to our big day! She made everything run so smoothly and set up everything so beautifully on our wedding day. If anything went wrong, I don't know anything about it because Megan took care of it! I was able to relax and just enjoy the day knowing that Megan was handling and coordinating everything.
Kelly was the most AMAZING photographer!!! She was so sweet and personable, and it was evident that she really cared about giving us the best photos she could. I loved that she took the time to photograph all of the intimate pieces (jewelry, dress, shoes). She was also extremely flexible and understanding when random family and friends wanted to jump in the group pictures or get individual pictures taken with Juan and I. I also loved that she took so much time getting pictures of just Juan and I even though we were running a little behind schedule. I can't recommend Anchored in Love highly enough!!!!! I would hire you all over again 🙂
We did a LOT of DIY for the wedding, mostly by my wonderful and sweet mother! She put together all of the beautiful bouquets, corsages, and boutonnieres… I don't think a florist could have done it any better! My mom also designed the centerpieces for the reception (with a little help from my sisters and I) and I loved the way they turned out. The last (and most labor intensive!) thing my mom made was the wedding program fans for guests to use at the ceremony to keep cool! This was my favorite thing my mom made, truly a labor of love!
We also made our wedding favors, which were special hand creams, scented with orange, jasmine, or rose geranium essential oils. Our friend Martin Blank makes and sells these hand creams (www.etsy.com/shop/allupinyobeesness) and he donated the supplies to make these wedding favors for our guests. Needless to say they were a big hit with everyone!
Our wedding day was unbelievably perfect in every way. Both of us agree that our favorite part of the day was our ceremony. We spent a lot of time crafting the flow and content of the ceremony with our officiant to make it special and meaningful to us, and it was that and so much more. All of the readings, by the officiant and our guests, were so heartfelt and beautiful. The meditation was also a beautiful moment to pause, relax, and soak in the wonder of the moment. It helped us both to calm down and feel connected before we exchanged vows.
Another amazing moment for me was when Juan sang the song "Someone" by Musiq Soulchild to me. That was so sweet and romantic!!!!!
I think the biggest piece of advice is to relax and just enjoy the day!!!
Thank you so much to Mary and Juan for taking the time to share your thoughts.  We wish you a lifetime of happiness!!!!