Megan & Micah's Saint Thomas Preservation Hall Wedding Highlights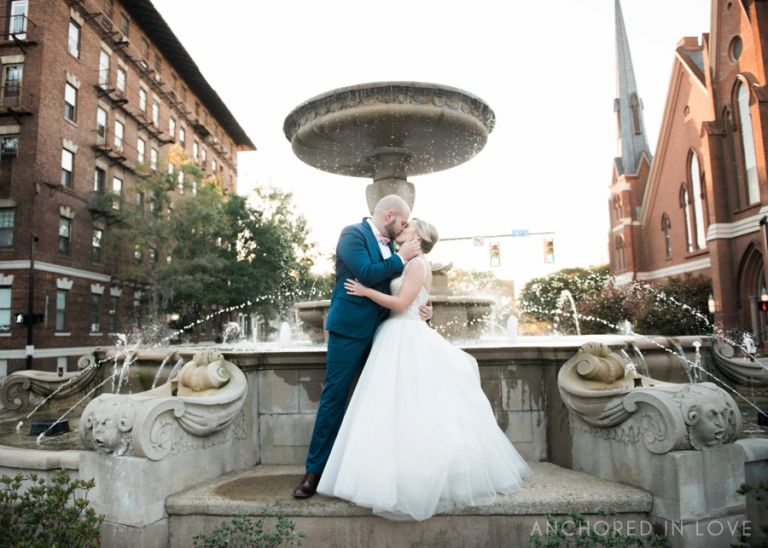 Photographers:  Kelly & Barrett Edwards
Megan & Micah's Saint Thomas Preservation Hall wedding was nothing short of spectacular!  It was an honor to be a part of such a special day for two amazing people!  Megan looked like a princess in her stunning wedding dress and Micah is a model if I ever saw one!  They had so many special moments, but for us it was extra special to steal away at sunset to do some photos at the fountain on 5th street!  Megan and Micah were kind enough to share their thoughts about their wedding day with us. We are so grateful for their input!
Congratulations Megan & Micah!:
Vendor Info: We had amazing vendors and each one played a part in making our day picture perfect! The guys found their dreamy blue suits at Express, which complimented our blush pink color wonderfully. And the ladies at Fountaine Bridals were so helpful in the search for my dress and our bridesmaids' dresses. I couldn't have asked for a better experience there. It's also where I got my earrings and bracelet to wear on our big day! My bridal TOMS were perfect for the ceremony and reception, and the ladies at Beauty Bar Boutique absolutely rocked our hair and makeup!
Saint Thomas Preservation Hall and all the people at The City Club were fantastic to work with, so prompt, and really kind individuals. Our day-of coordinator, Heather, was part of the team there – she was awesome and made our day run so smoothly!
Walking into the ceremony, the flower arrangements and decor took my breath away! High Performance Lighting did a great job with the Edison lights, and Beautiful Bouquets by Betty livened up the room! I couldn't have dreamed up more beautiful bouquets myself – the name really says it all!
Our personal friend, Eric Dixon, performed the ceremony, and Sawyer Pollock did a beautiful job with our ceremonial music.
For the reception, our DJ (This Life Is Musical) did a fantastic job of considering our requests and making things fun and dance-worthy! The food from Middle of the Island Catering was top notch, and the servers were so considerate and on top of things! Creative Cake Design by Tammy Hodge did an amazing job of creating the cake we wanted, and making it equally beautiful and delicious. It was fantastic! And on top of all this, Anchored In Love photographed our day perfectly! What a blessed day it truly was!
Kelly and Barrett did, hands-down, the best job with not only our photos and making us feel comfortable, but also being professional and helping everything run as smoothly as possible. When we got our photos back, we couldn't believe how perfectly each one truly told the story of our wedding day! They were both so prompt and intentional with the moments they chose to capture. And they never hesitated to do whatever it took to get the perfect shot (even running through 5th Street traffic)! We are so grateful we chose Anchored In Love for our engagement and wedding journey – it was the best decision we made!
DIY Info:  Hobby Lobby was my best friend through planning our wedding! I ordered our chalkboard easel offline, but all of the smaller chalkboards came from Hobby Lobby. I used their chalkboard paint pens to decorate them all, and they were really easy to use. I also painted the canvas we used for our guestbook!
Favorite Moments:  October 18, 2015 was mine and Micah's most favorite day of life so far! We had perfect weather all day, got to see family and friends, we hadn't seen in years, and committed our lives to one another. Altogether, it was just the best! Micah's favorite moments were spending time with his groomsmen before the ceremony and getting ready together, and then seeing Megan walk down the aisle. Such perfect moments were scattered all day long, and it just kept getting better! Locking eyes with Micah from those double doors was a favorite moment of mine too. I was so anxious for it all day, and when the moment finally arrived, it was like a sigh of relief and breath of fresh air all in one! We both really enjoyed taking our photos together with Kelly after the ceremony too! It was fun getting to explore downtown and enjoy finally being married. Having our friends and family with us at the reception was the icing on the cake, and we loved each minute of it!
Advice:  Stay hydrated all day, eat breakfast, and enjoy the time with your girls!!! It's such a fun day, and having the ones who mean the most there makes it even better. Take the time to spend with your new hubby too! We were glad to have time alone periodically throughout the day."