Mariana & Cody's Goldsboro, NC Wedding Highlights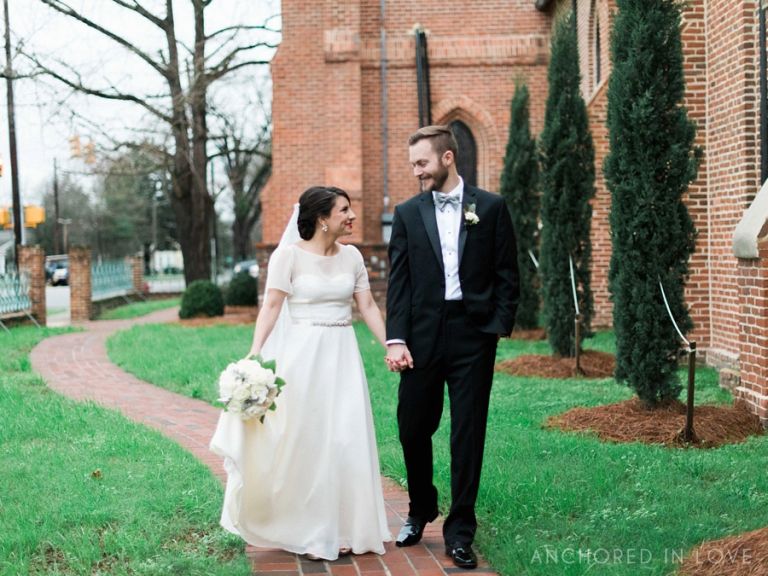 Photographers:  Kelly & Barrett Edwards
Mariana & Cody's New Year's Eve wedding in Goldsboro, NC was such a special event to be a part of!  We loved so much work with C and D Events to make their day so special.  Mariana got ready at her childhood home surrounded by her favorite friends and family.  Mariana had a special scripture verse sown into a patch that she pinned inside her dress.  Her dress was originally her mother's wedding dress!  Mariana had the sleeves altered and the veil was her "something borrowed" from her sister.  Mariana's father is so fond of his daughters.  She had told us that he is most happy when he has his girls together.  She did a special first look with her Dad followed by a first look with Cody.  Cody looked so dapper in his suit!  His cummerbund and bow tie was purchased off Etsy.
The Ceremony was held at Mariana's home church, Saint Mary's Catholic Church. She said "I was baptized in the auditorium while the sanctuary was being built. All three of us (plus the Goldsboro cousins) had our first communions there and it's where Denise was married. We (my sisters + Goldsboro cousins) went 1st-8th grade at the adjoining school. I used to sing in the children's mass and was a cantor for the school masses. We used to go to mass and then out to eat EVERY SINGLE WEEKEND with my cousins. It was a ritual/tradition. It's a pretty special place and I didn't realize it until we decided to have the wedding in Goldsboro. Lots and lots of memories there." Her Dad shed tears walking his daughter down the aisle and the whole family joined him with many happy tears during the ceremony.
Following the Ceremony, everyone headed to Walnut Creek Country Club to celebrate the marriage and count down the new year.  Mariana changed into a pink Kate Spade cocktail dress at the ceremony.  The cake by Lynn Bingle was the best cake ever!  Everyone was raving about how amazing it was!  Another special touch was the Mariachi band, who serenaded the party while they prepared for dinner.
We asked Mariana & Cody to share some thoughts about their day, and here is what they had to say:
Let's talk about your vendors! Tell us what your thoughts are about their services.
Walnut Creek CC: The food was delicious! They took what I wanted to set the mood and really followed through. It was beautiful and not over the top!

C and D Events: flowers / day of coordinator: Becca and I met several times before the wedding to go over all my ideas for flowers and how the day would go and of course she did not disappoint. She is professional and punctual and sweet and put my visualizations into real life. So happy to have worked with her and call her a friend!

Make up by Ashley Mooney: Her work is spot on what we were all going for and she made us all feel like movie stars!

Melinda Keener hair: I met with Melinda three times before the wedding and every time she had me rolling! That girl is hilarious and so good at what she does. My hair was classic and timeless- exactly what I was going for!

Just Sew by Renee: Renee performed alterations exactly the way I envisioned my mother's dress to look- for me. I was really happy with the way it turned out!

Lynn Bingle (cake): The cake was SO GOOD!!! I still have dreams about it!

Anchored in Love

: Y'all are the best. We felt so at ease with Kelly and crew and loved that they could take some time to dance with us celebrate the New Year. I didn't even notice Josh filming and neither did any of our guests. Thoroughly enjoyed working with the best of the best!
Did you DIY anything? Tell us about all your special touches of your wedding day.
DIY: My family and I made our backdrop for the "photo booth". The props were made by my friend and me and I made the sequin C & M letters.

Special touches: I was so thankful to wear my mother's dress, the veil my sister wore at her wedding and my late grandfather's boutonniere on my bouquet. Our champagne glasses were the same ones my parent's used and my mom had our name and wedding date engraved on it along with their names and wedding date. During the ceremony my god parents draped the lasso over us that they used when they got married over 30 years ago and we used the coins given to my parents by my late grandfather that they used when they got married.
Now that your day is over are there any other thoughts or comments you would like to share? We would love to hear about your wedding day in your own words. Bonus: We would love to hear about your Groom's favorite moments!
Mariana: Where do I begin?! We had a BLAST!!! The day of the wedding, I woke up slowly, hung around with my family in pjs until Kelly and crew showed up and then everything started rolling! Hair: check! Make up: check! Dress: check! First Look (my favorite): check! and then all of a sudden we were married and dancing the night away. I felt so happy and special. I had family and friends from all over the world celebrating us and I can not thank them enough for their love and support. My heart was so full of love for everyone there and of course for my handsome groom. It was incredible to see our vision for the day come to life and feel so much like the two of us. It was truly a beautiful day that was focused on our love and the beauty of us coming together for life!

Cody: The part of the wedding day I enjoyed most was our first look! I loved sharing that special moment with Mariana before the wedding! Our reception was a blast, and I had a great time dancing and celebrating with everyone. I also enjoyed our fantastic sparkler exit! It was extra special to be able to celebrate New Years with friends and family at midnight! We couldn't have asked for anything more.
Is there anything you are so glad you did or any advice to future brides?
 Having bridal portraits with Kelly was the best decision I made. I felt so comfortable on the day of the wedding that I could just enjoy it and not worry about my arm or facial expression!

Eat snacks! Savor each moment and try and take in the love that's surrounding you!
We loved every moment of this wedding!  This week we are sharing the photos and next week we will share the awesome video!
Thank you Mariana and Cody for letting us be a part of their wedding!  Congratulations!  We wish you the happiest life together!