ADVICE FROM THE PROS: The First Look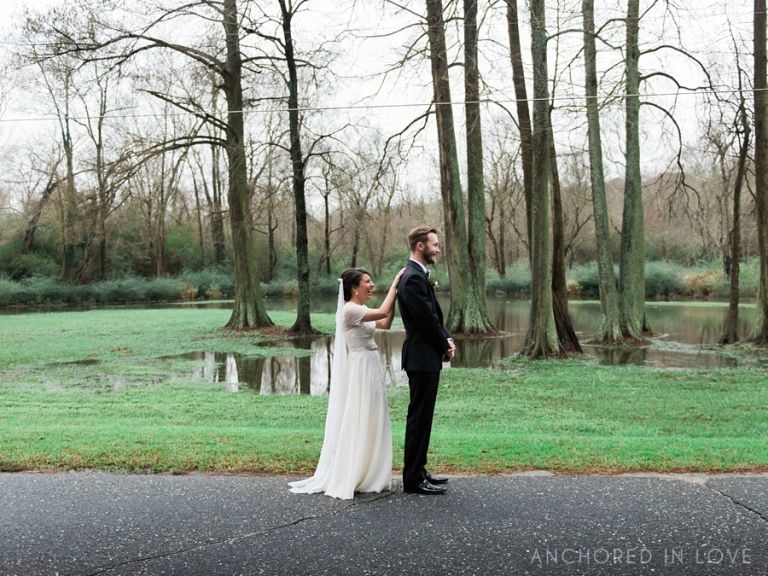 We have decided to share some of our wisdom from tried and true experiences from our heart to yours.  I think it would surprise people when they are planning their wedding how many of the things that they thought were a big deal (like the table decor or the flower choices) and how little they consider some of the most important things about their wedding day.  The truth is, almost every bride, unless you are in the wedding business, has a huge learning curve to tackle as they plan their wedding.  That is why we are writing this blog series, to help out!
To Look or Not To Look… That is the Question of the Day.
There are lots of reasons both for and against having a first look with your groom and while we can't tell you which one YOU should do, we can talk about some things to consider when making your decision.
Let's first talk a moment about the superstition of it all.  Back when marriages were arranged, it was believed to be bad luck for the couple to see each other on the wedding day.  It was believed that if they saw each other they would have the change to change their minds about the wedding.  Since most arranged marriages were essentially business deals between families, the parents of the bride would often fear that if the groom didn't feel their daughter was attractive enough he would call off the arrangement. Ouch.  Thankfully, that isn't (usually) the case today.  Today we have the privilege of marrying for love.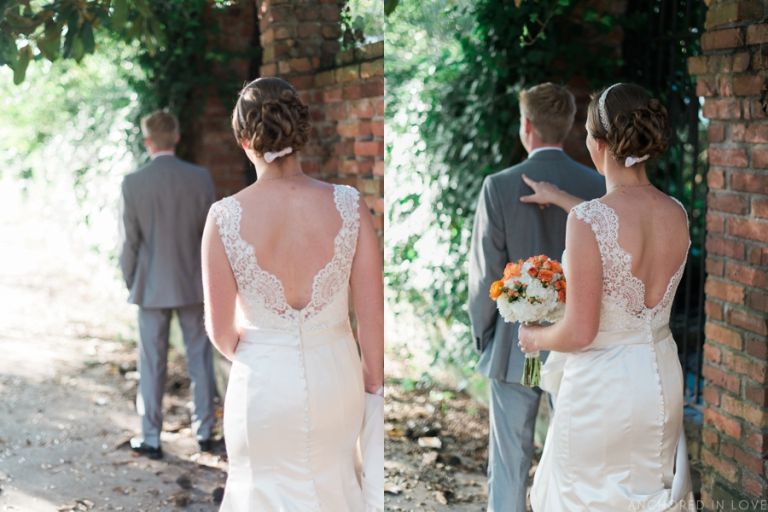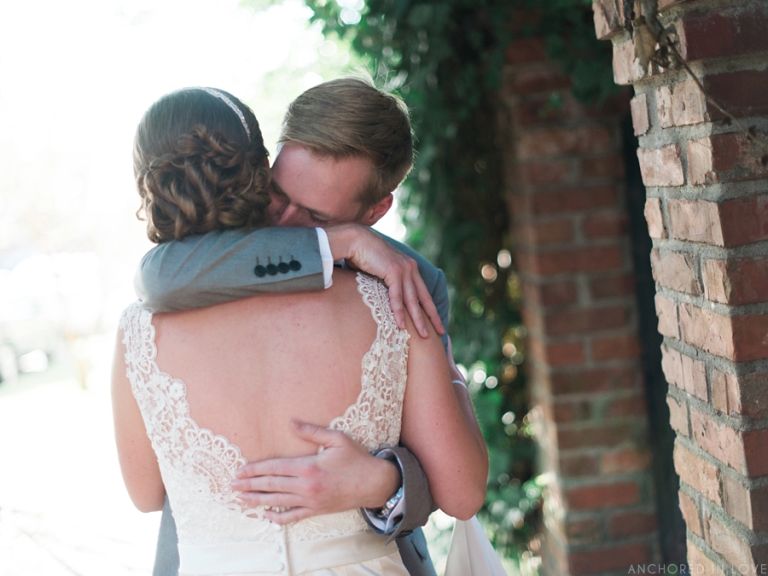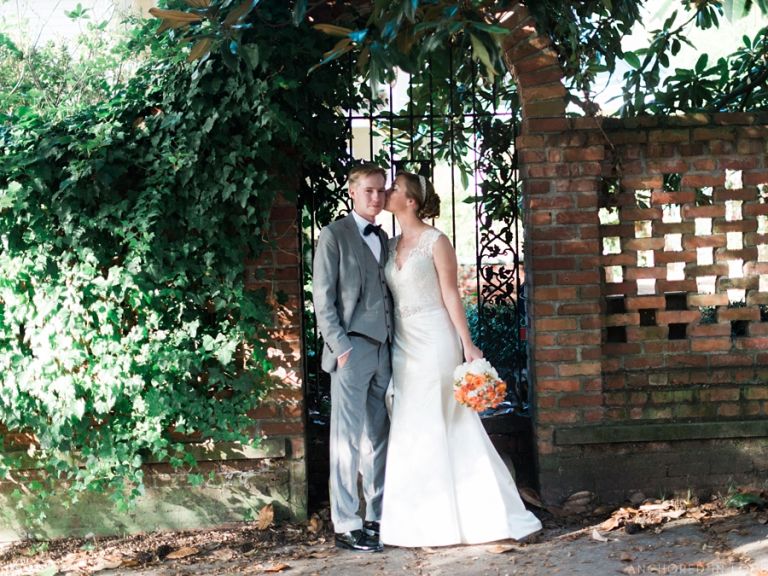 Even though the practice started for rather un-romantic reasons, that doesn't mean it isn't romantic TODAY.  Today a lot of couples choose not to have a first look because they look forward to the anticipation and excitement of seeing each other for the first time as the bride walks down the aisle. Other couples choose to have a first look, to have a special moment beforehand.  One that allows them to be more relaxed as that big moment arrives.  So do you or don't you?
Here are some things to consider:
Tradition – You have dreamed of this moment since you were little.  You have envisioned it a thousand times, walking down the aisle, music playing, your groom seeing you for the first time, eyes watering… There is something to be said for THAT MOMENT.  That moment where all of the preparation and planning has finally come to an end and everything you have worked so hard for is finally happening, you are about to become husband and wife.
Privacy – It may sound crazy to some, but if you are a private person you might not feel comfortable having that first moment on display in front of all of your friends and family.  By doing it before hand, with just you and your partner, you are free to be completely genuine and open with your emotions.
Nerves – If you tend to be an anxious person sometimes having that moment beforehand can really help calm you down and even enable you to relax and enjoy your ceremony more.  Seeing each other beforehand solidifies you are in this together and there is nothing to worry or be anxious about. Sometimes you just need your partner to look at you and reassure you that everything is going to be perfect as long as you're in it together.
Time – Time is a precious commodity, especially on your wedding day!  There is so much to cram into that one day and you don't want to feel rushed!  If you see each other beforehand, it gives you (and your photographer) more time to capture you and your fiancé.  If you wait until after the ceremony to have photos taken, it can feel rushed.  Say you have an hour between the ending of your ceremony and your reception, an hour seems like a lot of time but too often it isn't enough.  If you think about an engagement session, those are usually an hour long and that's just the two of you!  Now imagine adding 20+ friends and family to that session plus formal pictures with your wedding party and still having time to take photos of just you and your groom!
Also think about the time of day.  If your ceremony is at sunset, you'll be leaving all of your couple portraits, as well as family portraits to be done IN THE DARK.  Photographers don't need it to be a bright, sunshine-y day to get great pictures of you and your family, but we do need SOME light.
Unscheduled Events – No matter the amount of planning, things can still go wrong.  While we all hope that it doesn't, it's not wholly a bad idea to plan ahead just in case.  For example:  We once shot a wedding where the bride's collapsed during the ceremony.  (She was ok, we promise!)  As you can imagine our Bride was understandably upset and worried about her sister and coupled with the emotions of the day, found she needed a few minutes to collect herself.  Luckily, her sister was fine and our Bride had already had a first look with her groom, and some couples photos!  Even with this blip on the day, she didn't miss out on anything! She (and her sister) still had a great time!
Is there a way to have the best of both worlds? Here are some alternatives to the first look that will give you a moment together, while still giving you THE moment.
The No Look First Look – This is when a couple wants to have that moment together before the ceremony, but doesn't want to 'spoil' THE MOMENT.  We have had a lot of couples opt for the "no look first look".  The bride and groom have a private moment together, without seeing each other.  Often with a door or a wall between them.  It's the perfect time to give each other a gift, to pray, or to just BE with each other before the craziness of your wedding kicks into high gear.  We've even seen some couples have a first look with the groom blindfolded.  Keeping the tradition of seeing each other as the bride walks down the aisle intact, but still having a private moment together.
Send Each Other a (video) Message – Record a message (or write a letter) to your partner to watch (or read) while they are getting ready.  A video can be easily shot on most cell phones and are a really fun (and lasting) way to say a few things to each other beforehand without actually seeing each other.  You can record it any time (even the night before) and give (or send) it to them to watch as they are getting ready.  Bonus, it acts as its own keepsake!
Or you can do your own thing and have a 'Family First Look'!  Have a first look with the OTHER special man (or men) in your life.  Share your first look with your Dad.  If you want to keep the no peeking tradition, consider having a first look with your Dad (or Mom, brother, etc.) We guarantee it will be one of the sweetest moments of your day.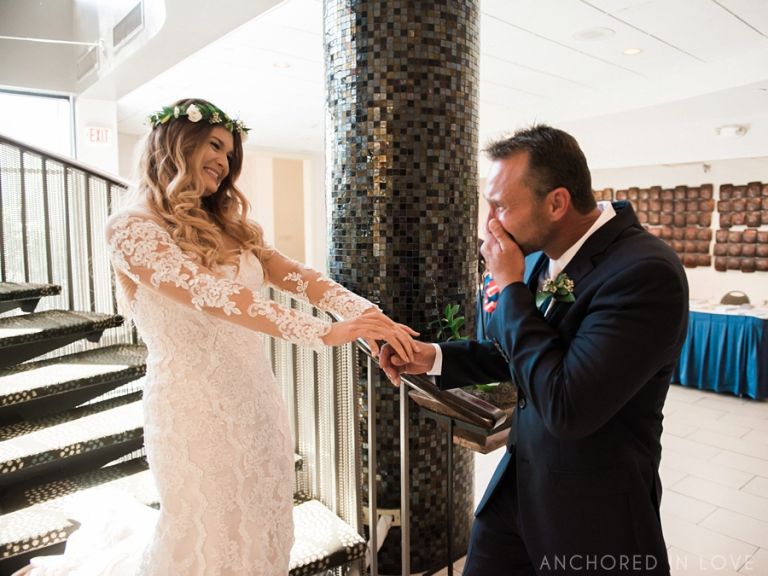 Our two cents:  If you are having a small, intimate wedding the first look may not be necessary unless you really want to do it.  On the other hand, if you have a large bridal party and guest list a first look, even if it's with a family member (Mom and Dad) instead of your spouse, is a great way to re-center your mind, it's like a calm in the storm where you let everything get quite and you can really appreciate why this day is happening.  From a photographer's perspective, we LOVE first looks because we can schedule the family photos and bridal party photos right after and then the flow of your day is: Get ready, First Look, Bride and Groom photos, Family photos, Bridal Party photos, Ceremony, Cocktail Hour, Reception.  You get to be present at every part of your wedding day instead of leaving to take photos and then coming back.  That is more time to mingle with your guests!  Finally, if you are having a summer wedding, your mom and grandma will be thankful to have their photos right away while they are still looking fresh as opposed to after a long hot ceremony where they may have melted a bit.  This is the south you know 😉
The truth is, there is no right or wrong answer to whether or not to have a first look.  The right answer is whatever feels right for YOU.  No matter what you choose, your wedding will be a day you remember for the rest of your life, and it will be amazing.
Check out more Advice from the Pros posts here: http://anchoredinlove.com/category/advice-from-the-pros/