Joannie & Thomas's Southern Comfort Wedding in Ocean Isle, NC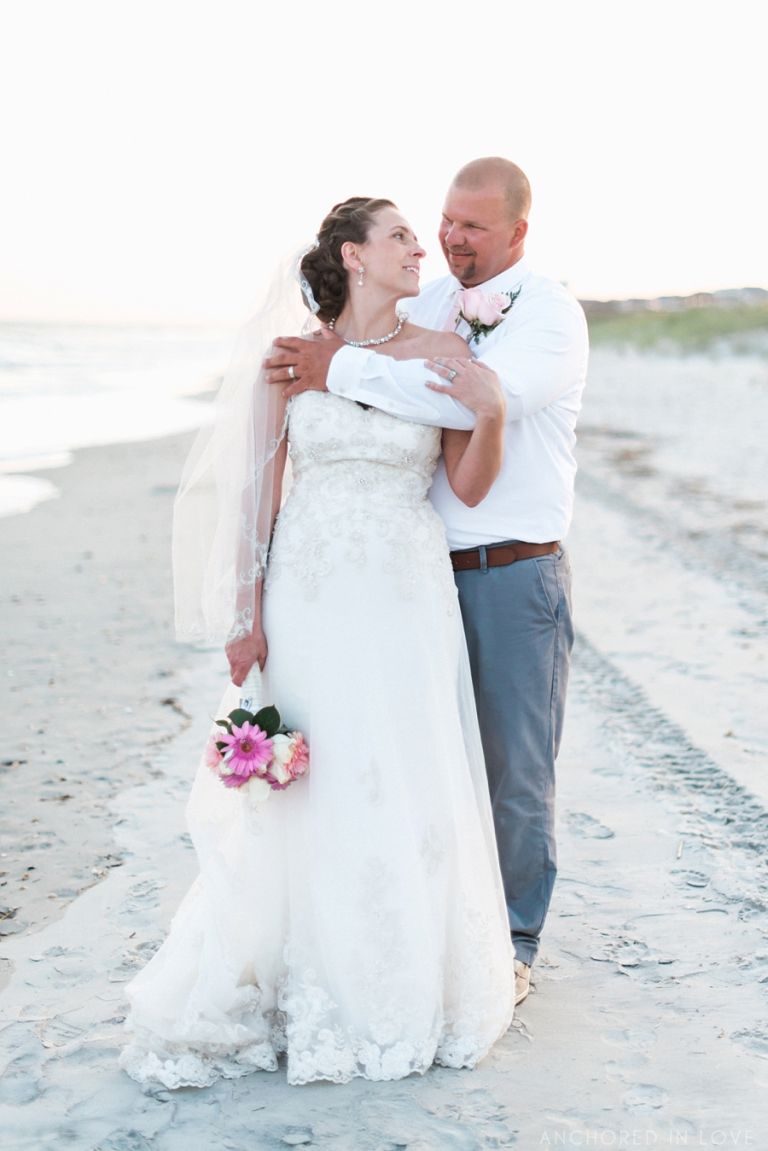 We loved being a part of Joannie & Thomas's Ocean Isle wedding!  It was a joy to capture photo and video for their special wedding.
Joannie and Thomas were so sweet and thoughtful, not only to each other, but to their family and bridal party!  They married on Joannie's parent's wedding anniversary and the day was filled with special moments that honored her parents and their love.
It isn't always easy having little ones be a part of your bridal party, but Joannie and Thomas were up to the task and made sure that the kids had lots of treats to make them feel special.  The boys received harmonicas and the girls were included with the big girls in getting necklaces and bracelets.  The groomsmen all received personalized pocket watches.
The ceremony was full of happy tears followed by a night of eating, drinking, and being merry!  It was truly a night to remember and we hope that our photos and videos will help the couple remember every special detail.
We asked Joannie & Thomas to share their thoughts about their vendors and their day, here's what they had to say!
Q. Let's talk about your vendors! Tell us what your thoughts are about their services.

Luxury Lodging by Laura

I got married at the

Southern Comfort House

at 69 W. 1st Street, Ocean Isle Beach, NC

The House has 12 bedrooms was perfect for such a large group. It is perfect and well managed.

Seaside Bakery

, Ocean Isle Beach

From the 1st time I spoke to Carolyn until today she was always been helpful and a delight to work with. We sat down one afternoon and tried all the cake and icing flavors she makes. I loved them all and ended up get all of them. We design both my wedding cake and the groom's cake. The day they arrived, I did not have to worry about anything to do with the cakes. They were more than I could have asked for. Everyone is still talking about how beautiful they looked and how magnificent they tasted.

Bloomers Floral Designs

, Ocean Isle Beach

Mandee has such a great personality and loves being a florist. It shows in her work. I told her what flowers I wanted and emailed her some pictures. She searched for months trying to find me the best deals on flowers that she could. When I got her invoices I was so surprised, in fact, I talked to a lady at home and asked her about it. She told me that they were very reasonable prices. The bill was less than I thought it would be, especially considering I got married on Mother's day weekend. When the flowers came, they were perfect and more than I could imagine.

Art Catering and Purple Onion Cafe

, Shallotte

I have to be honest. At first I was not sure about Art Catering. I felt like they were not listening to what I wanted and wanted to make my menu to please them.  After going back for the second time it got better. They worked with me on setting the menu and made some changed without charging me an extra fee. I am so thankful it worked itself out. Everyone loved the food and the service. It was perfect.

Q. We would also love to know your thoughts on our service.  

I can not thank Anchored in Love enough for spending the day capturing the most precious moments of the start of our life together. We wanted you to feel like part of the party and hope you did. We enjoyed having you there and felt comfortable and confident that you would do a great and wonderful job. One less thing we had to worry about. We were so blessed to have found you. Thank you, thank you and thank you…

Q. Did you DIY anything? Tell us about all your special touches of your wedding day.

I planned it all out and knew what I wanted it to look like. I bought everything and kept it organized until we packed it up to head to the beach. Once at the beach I put the stuff to-do on one side and the stuff already done on the other side. I paid a friend/co-worker from home to help me set it up. I did not want my family and friends to have to help. I wanted them to relax and enjoy their time (especially my mom).

Q. Now that your day is over are there any other thoughts or comments you would like to share? We would love to hear about your wedding day in your own words. Bonus: We would love to hear about your Groom's favorite moments!

The day went by so fast and we both tried to take as much in as possible and tried to make as many memories as we could. The day for me (bride) started at 5am when I woke up from a dead sleep to remember the last place I saw my wedding veil was a two days before I left home the Wednesday before. Sharing a room with my best friend, I woke her up by taking just a big breath. She sat up in bed and said "what's wrong?" I told her I left my veil at home. All she said was we will get you one when the stores open and we went back to sleep for about an hour. The rest of the day went too fast. I will say knowing my personality, I stayed clam all day and never got nervous. I am a controlled, clean, organized and iron everything kind of person, but on the biggest day of my life I was all relaxed and calm!  Thomas (groom) and my brothers were nervous enough for everyone. My favorite part of the day was my shoes. Silly, I know, but Thomas took them and wrote the sweetest note on the bottom.

Thomas' favorite moment was me, of course… No, I am kidding! He says he does not have a favorite moment. We loved all of it and were so happy. If I had to guess, I would say getting the superman ring would be at the top with getting tossed into the pool!

Q. Is there anything you are so glad you did or any advice to future brides?

The most important thing is "Do not stress over the small things" Everything will work itself out if you just let it. Like I say all the time "Don't stress until you have too."
Thank you Joannie and Thomas for letting us share in your special day!  Congratulations!