Charlotte & Bridger's Elizabethtown, NC Wedding Highlights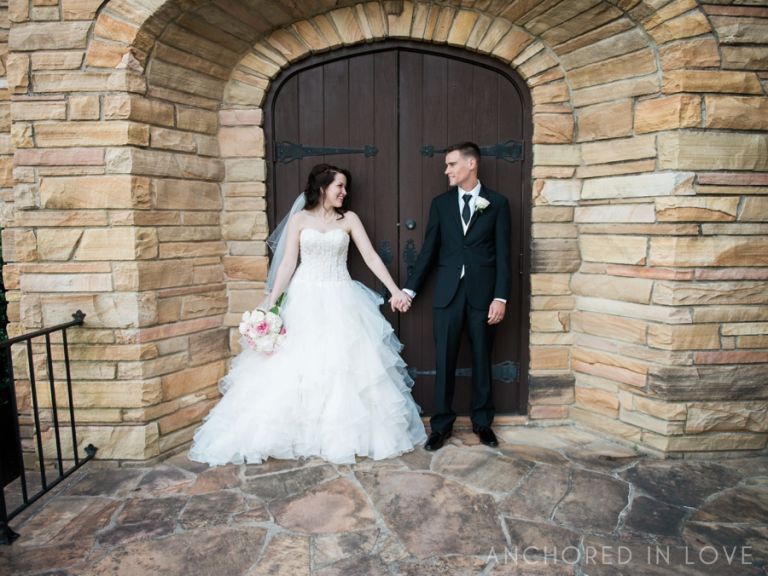 Photographer: Kelly Edwards
On May 14th we had the joy of being a part of Charlotte & Bridget's beautiful wedding day!
The couple held their ceremony at Trinity United Methodist Church, Charlotte's church since childhood. Surrounded by beautiful stained glass windows and loved ones Charlotte and Bridger shared vows and communion.  They finished with a joyful kiss and marched down the aisle hand in hand, accompanied by Star Wars music played by the pianist!
The reception was spectacular!  The Venue at Regal Resorts on White Lake was a perfect choice to enjoy dinner, dancing, and sitting in rocking chairs to watch the sunset.
We are so happy for Charlotte and Bridger and we wish them a lifetime of happiness!  Thank you for letting us be a part of your wedding day!
Thank you also to the amazing vendors who were a part of their wedding:
Caterer:  Middle of the Island Catering
Florist:  Michelle's Flower Shop – Kelly Owen
Cake Artist:  One Belle Bakery
Musician/DJ:  Coastal DJ & Video Karl Mohr
Hair Stylist:  Joseph D Salon
Makeup Artist:  Danielle Forte Makeup Artist
Videographer:  Colon Print Shop
Charlotte & Bridger were kind enough to share about their wedding in their own words:
Q. Let's talk about your vendors! Tell us what your thoughts are about their services.
A. Danielle Forte Make Up Artist – Danielle was a pleasure to work with! She made all of us feel and look beautiful! I let her know that there were some specific products that I like to use and she was totally cool with everything. Her application was flawless and she was able to give us all a natural look with great coverage. I would highly recommend her to friends who need a makeup artist for any event.
The Venue at Regal Resort – If you have never been to The Venue at Regal Resort in White Lake, NC, you have got to go there for your next event. It is an old arcade that they have stripped and redecorated and it is breathtaking. They have these glass garage style doors that you can look out and see the lake at all times and a private pier for guests to use.
One Belle Bakery – The cake was gorgeous and delicious!! It was just as I had imagined and the guests ate ALL of it!! It was ALMOST too beautiful to eat! Georgia was excellent at helping us design the groom's cake and the wedding cake!
Middle of the Island – We chose the wedding favorite and they set up a French fry stand for the cocktail hour. All of the food was delicious and we have had so many people say that it was the best wedding food they have ever eaten. I would have to agree!
Michelle's Flower Shop – This is a local florist in my hometown. Kelly worked with me on picking out the flowers and delivery on the day of the wedding was seamless. All of the arrangements were absolutely beautiful. Not only were they beautiful, but they lasted for such a long time after the wedding! I still had beautiful blossoms 2 weeks after the wedding.
Coastal DJ and Video – They were so easy to work with! They knew how to do everything and their online song request form and event planner made everything so easy. It was so nice to just relax and have them take care of everything. I would recommend them to anyone!.
Anchored in Love – Our experience with Anchored in Love was nothing short of amazing. Kelly arrived early and looked around the church for the best places to take photos. During the ceremony, she took pictures, but she was very discrete, which is exactly what I asked for. Throughout the entire wedding day, she was like an old friend helping us out. She lifted up my dress, carried my bags, and even taught us how to cut the wedding cake. I have only seen the previews so far, but they are all breathtaking and we cannot wait to see more. Kelly was also very flexible, which I greatly appreciated. At the end of the reception, we needed an extra 30 minutes for the bouquet toss, garter toss, and sparkler departure. Kelly agreed to stay on an extra 30 minutes, which was a huge relief for all of us because we wanted to have pictures of those special times. I could not recommend Anchored in Love highly enough. The personalized service is outstanding and we could not have asked for a better experience.
Q. Did you DIY anything? Tell us about all your special touches of your wedding day.
A. We didn't really DIY anything, but we had several special touches to our wedding day. We wanted our family and friends to be involved as much as possible, so his dad read the scriptures and we had a couple that we are friends with sing "The Prayer" at our wedding. My "something old" and "something borrowed" were my mother's pearl necklace and pearl bracelet. My dad gave her the pearl necklace when she graduated high school and he gave her the pearl bracelet when they had their first child. When I came back from the honeymoon, my mother gave them to me. Every time I look at them, I will think of her and all our times together. Another special touch was that we also served communion to everyone. That was such as special moment for us because our first act as husband and wife was to serve Christ by serving others. It was truly a humbling and spiritual experience. When I was looking for recessional songs, all of the traditional songs sounded so boring to me. We are both Star Wars fans, so we decided to use "The Throne Room Theme" from Star Wars as our recessional song. One last thing that we did that I would consider as a special touch was that we memorized our vows before the ceremony so we did not have to repeat behind the preacher. I just said them in my car every day on the way to work and he wrote them on a dry erase board at his house and looked at them every day. I felt like that made the vows even more special and since I memorized them, I will never forget the promises I made that day.
Q. Now that your day is over are there any other thoughts or comments you would like to share? We would love to hear about your wedding day in your own words. Bonus: We would love to hear about your Groom's favorite moments!
A. Of course I loved getting ready with my girls and the time we got to spend together with them leading up up to the wedding. They are all so sweet and we were pretty much the most drama free and chill wedding party in history. We just had so much fun on the day of the wedding and I will always remember that special time we had together. Of course, one of my favorite moments was Bridger's reaction when he saw me for the first time in my gown. I didn't know what his reaction was going to be, and I knew several people had asked him what he thought he was going to do. I remember he looked at me and then suddenly placed his hand over his mouth and held it there for a little while. When I asked him what was going on he said that he lost his breath for a second. I will never forget that moment. Our reception was truly a celebration and we had so much fun spending time with our family and friends. Bridger said that his favorite moments from the wedding were when we saw me for the first time on our wedding day and the song that Laurie and Mike Kelly sang.
Q. Is there anything you are so glad you did or any advice to future brides?
A. I am so glad that we decided to serve communion. I knew that there would be many people present and I almost had a few people talk me out of it because of time constraints. However, I knew what I wanted and I told other people who were worried about it that no matter what, it would be ok. Another thing I am so glad we did was allow the flower girls to sit down during the ceremony. I didn't want them to get tired or fidgety during the ceremony, so I allowed them to sit in the third row with their mothers. Several people who attended the wedding have told me how considerate that was. So, I guess my advice to future brides would be to remember that it is your day and don't let other people talk you out of something that you really want to do if it is within your budget and to be considerate of any little ones you might have in the ceremony. Secondly, if you and your future husband decide to serve communion at the wedding, make sure YOU are holding bread. Finally, if you are going to have fresh flowers at the wedding, find someone to give your table/altar arrangements to who can distribute them to people who need them. We delivered most of our flowers back to my church and they were used at the funeral of a family friend who passed away unexpectedly and then they were delivered to our local hospital, shut ins, and nursing home. Flowers truly are a special gift, don't waste them!