Lindsay & Craig's 101 Stone Chimney Place Wedding | Supply, NC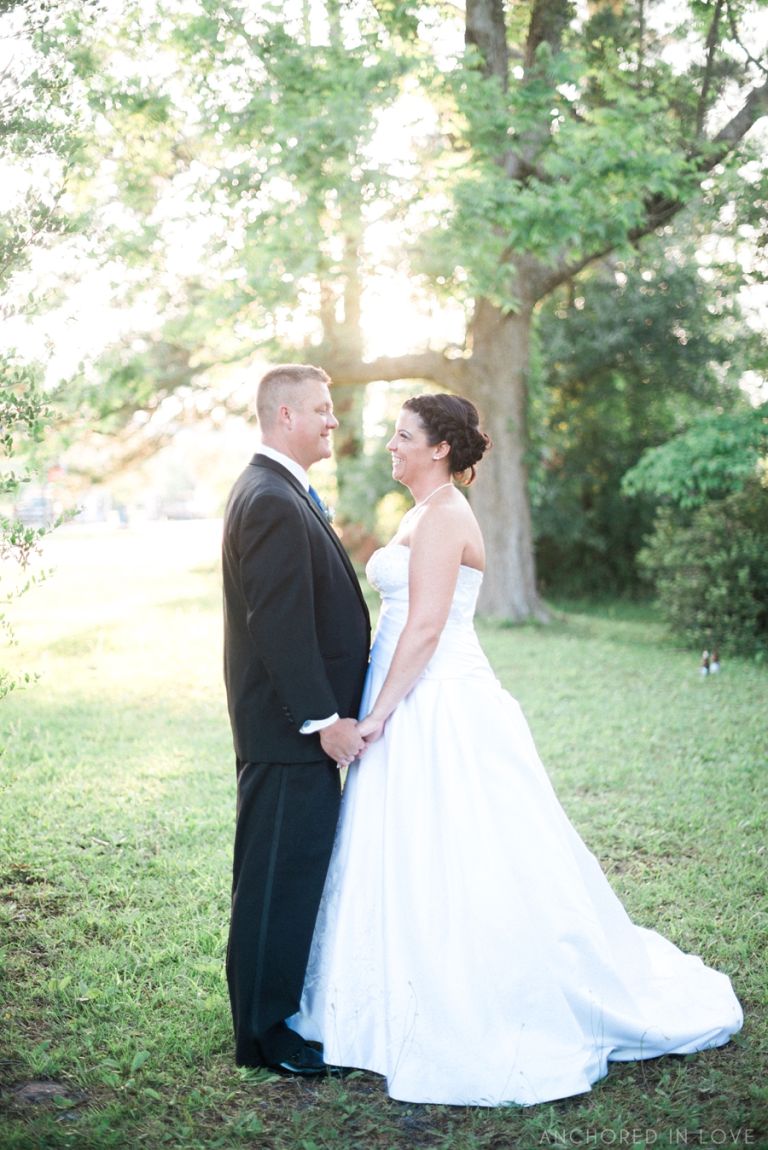 What a joy and a treat it was to be a part of Lindsay and Craig's Wedding! The sweetness of this wonderful couple was matched by the love their friends and family showed them at their 101 Stone Chimney Place wedding in Supply, NC. Everything from Lindsay's gorgeous hair and makeup by Magnolia Salon & Spa before the ceremony all the way to the fantastic music styles of SpinzAlotMusic & Entertainment during the reception came together to make this wedding absolutely amazing!
Lindsay and Craig were sweet enough to share their thoughts about their vendors and wedding day:
Caterer – Coastal Catering and Events – Joe Caldroploi – all the food was amazing, especially the pulled pork and orange glazed chicken. The pulled pork is North Carolina style BBQ.

Cake – Imaginary Cakes in Wilmington. They specialize in butter cream icing which was perfect for us. Their designs are amazing and the taste is even better. The cake tasting is an experience in itself and Cindy made it memorable for us.

Venue – 101 Stone Chimney Place. They are closing in August, but the ladies there were very attentive to our needs and the venue is absolutely beautiful.

Director – Melissa Whaley my cousin. She was a Godsend and helped in so many ways. I can never repay her for how much stress she took off Craig and my shoulders.

Photographer- Kelly was absolutely AMAZING!! Her professionalism was great, but we truly appreciated her laid back style and how attentive she was to us, especially during the reception. We couldn't of asked for a better photographer. We also appreciated how comfortable she made us feel. Craig was blown away with my bridal portraits!

Did you DIY anything? Tell us about all your special touches of your wedding day.
I DIY'ed almost everything. Both moms were involved in the backdrop with the lights in the ceremony hall. I made all the centerpieces and the wishing well. My mom and I also made all the flowers and boutonnieres for the girls and guys.
I am truly grateful for all my DIY creations. It made it more special and personalized for Craig and me.
The foyer tables were also a special touch for us. Since we both ride motorcycles, we wanted a different way for our guests to sign in. Seeing all the signatures on the helmets is something we will treasure forever. The picture tables were a request from my mom. She thought it would be a special idea and she was so right. I also knew the memory table was something I had to have at our wedding. Craig and I both appreciate family, and those we have lost definitely deserved to be recognized.

Now that your day is over are there any other thoughts or comments you would like to share? We would love to hear about your wedding day in your own words. Bonus: We would love to hear about your Groom's favorite moments!
It was such a special and memorable day. Marrying my best friend is something I will always cherish, and having my brother officiate the ceremony was special in so many ways. Craig was touched by my speech to Bailee and one moment he talks about a lot was taking pictures in front of the old house.

We are also so happy with our wishing well. We didn't want people to feel they needed to give us money, we truly wanted the well wishes. Reading all the cards when we got home was very special, especially from the kids. We have awesome drawings and well wishes from all the little ones!!

Is there anything you are so glad you did or any advice to future brides?
I am so glad I had a wedding director. We asked a family member that we knew could handle it. While Craig and I planned the entire wedding, it was great to have someone handle everything the day of.
Start planning early and take the planning one day at a time.
DIY projects are fun and you are able to personalize your day.
We are also very glad we kept our guest list small to family and close friends. It made it special to us for us to be able to see and talk to everyone that came.
Don't let anyone talk you out of something that you really want to happen at your wedding. I have no regrets about incorporating everything I wanted.
Enjoy the day, don't get stressed and be in the moment with your husband the day of your wedding. Don't take it for granted. The day goes by so fast, so just be present for everything.
We couldn't be more happy for Lindsay and Craig! Congratulations!