Jennifer & Sean's Downtown Wilmington Wedding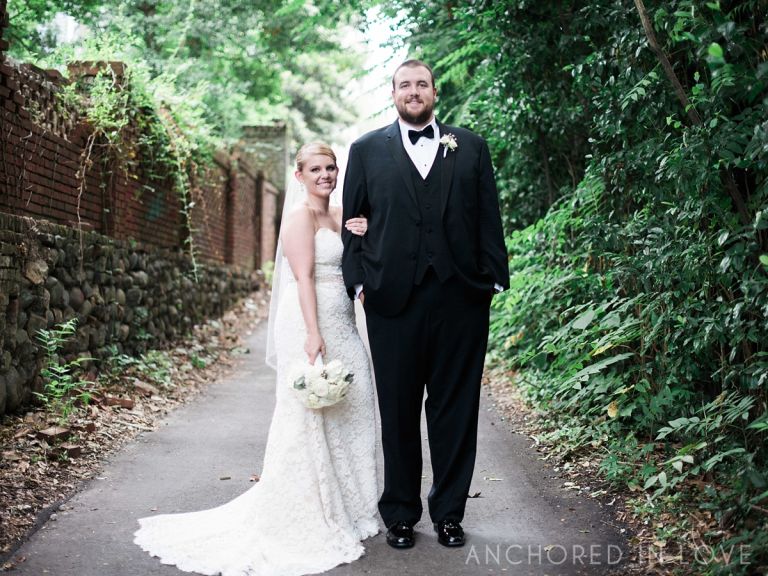 Jennifer & Sean's wedding was truly special!  Some weddings we leave and say to ourselves "That was a great wedding" and Jennifer and Sean win an award for having a great wedding!  From the awesome moment when Jennifer did karaoke with the DJ to the final dance in a circle with both sets of parents, their wedding was full of heartfelt love for each other and for the people they love.  Thank you for letting us share in your special wedding and Congratulations!!
The couple was sweet enough to answer some questions to share about their wedding day in their own words:
Let's talk about your vendors!  Tell us what your thoughts are about their services.
First of all, we are so happy we went with Anchored in Love!  As for our other vendors, we loved everyone we chose!  We were thrilled that we chose to get married at the Basilica Shrine of Saint Mary.  It's a breathtaking space, but it was also very special to work with Father Bob and others at the church as we prepared for our wedding day and the start to our forever together.  Our reception site, Saint Thomas Preservation Hall was the space of our dreams.  Poppy, Heather and the team at St. Thomas helped us carry out the vision we had dreamed of for so long.  Not to mention, the space is absolutely gorgeous and fit our vision to a T!  We absolutely loved all the delicious food Middle of the Island provided for the wedding!  CM was a gem to work with – so helpful and personable!  Our ceremony and reception flowers were from Beautiful Flowers by June.  She and her team exceeded our expectations, and their work was incredibly beautiful!  Even though our reception fell mostly during sunlight, we fell in love with the lighting options that High Performance Lighting showcased inside of St. Thomas during a bridal event in downtown Wilmington.  We knew it would add a special touch and really help to highlight the space we fell in love with.  Party Suppliers provided our table cloths and barware for our reception, and they were great to work with!  Our attire and beauty for the wedding day were courtesy of Coastal Knot Bridal, Men's Warehouse, Jen Halpern (Beyoutiful Makeup ILM), and Drea Petty (Colour Bar Salon& Spa).  Finally, we have to give a huge shout out to our DJ, Mike Worley!  He was recommended from Karen, aunt of the bride, and he certainly did not disappoint!  He was super personable, incredibly receptive to our ideas, and he created the best party atmosphere that we had envisioned for so long!
We would also love to know your thoughts on our service.
We were blown away by Kelly and Barrett's work!  From the first conversation we had with Kelly, even just on the phone, we knew it would be a perfect match.  Not to mention, we immediately fell in love with the timeless, breathtaking work that we saw on the website and from folks who we know that had used Anchored in Love for wedding photography.  We shared our vision with Kelly and Barrett, and we could not be more pleased at the moments that were captured!  The first session was my bridal session, and Kelly was so helpful and gave great direction the whole session.  I was blown away by her amazing photography, and I hated that I couldn't share them with Sean until after the wedding!  They proved to be a great surprise gift for him on the wedding night though!  As for our wedding photos, we could not be more pleased at the beautiful shots of our family, friends, spaces that we shared both our vows and dances, and all the little details of our perfect wedding day.  We cannot thank you enough for the breathtaking photos that we will cherish for a lifetime!
Did you DIY anything?  Tell us about all your special touches of your wedding day.
We DIY'ed quite a few things for the wedding!  Sean and I are very crafty people, so we definitely wanted to put our special touch on the wedding.  First, Sean built two wooden lanterns for the alcoves in St. Thomas.  The windows that displayed our engagement photos, menu, and table seating chart were restored by Sean and Charles, father of the bride.  It was a family affair to design and apply vinyl on the menu and table seating chart as well!  The "BAR" sign was made by myself and Sean by distressing wood and hand nailing all of the bottle caps.  Martha, mother of the groom, suggested a great idea for our "card box" which was actually a mailbox that Sean and I designed and applied vinyl to.  Anita, mother of the bride designed the wedding programs and "Thank You" place cards for the reception, and I did all of the frame displays for bar offerings and cake flavors.  Andrew, brother of the groom, hand-sketched St. Thomas and St. Mary's for our "guest book."  We also had a dear family friend who made the "Mr. & Mrs." blocks and cake table sign.  They were the perfect touches to our day!
Now that your day is over are there any other thoughts or comments you would like to share?  We would love to hear about your wedding day in your own words.  Bonus:  We would love to hear about your Groom's favorite moments!
We had the most magical wedding day, and it was everything we ever dreamed of and more!  Our parents, family, and friends were so instrumental in helping us get to the wedding day through all the planning and collaborations, and we cannot thank our parents enough for all they did to allow us to have such an amazing wedding day.  I can't name one part of our wedding day that was my favorite as there were so many I enjoyed from our ceremony to dancing all night with those we love and cherish dearly.  Sean said his favorite moment from the wedding day was getting to see me for the first time as I walked down the aisle!
Is there anything you are so glad you did or any advice to future brides?
We are so glad that we planned far in advance, put our special touches on the wedding with our DIY designs and decor, and are so thankful that we had the support and love from our family and friends to make our wedding day incredible!