Kelley & Wiley's Blue Ridge Mountain Club Wedding | Blowing Rock, NC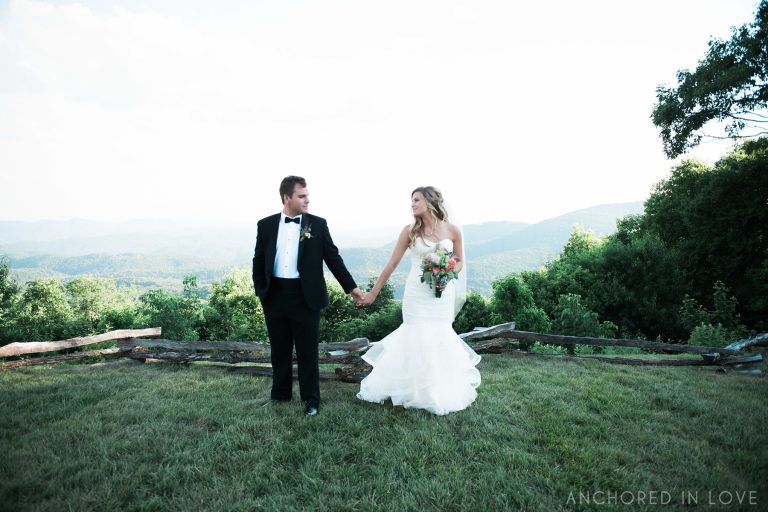 Photographer: Kelly Edwards
Earlier this year we had the wonderful opportunity to join Kelley and Wiley in Blowing Rock, NC to capture their beautiful wedding at the Blue Ridge Mountain Club.  Not only is this couple beautiful on the outside, but they are pure sugar on the inside too!  Kelley and Wiley were sweet enough to share about their wedding with us:
Let's talk about your vendors!  Tell us what your thoughts are about their services.
Flowers, food, drinks, decorations, rentals, and venue were all done by Grouse Moor Catering, owned by Buddy Fore. He made our wedding day into a real-life fairytale, and we will never forget it. The food was amazing and cooked to perfection, our guests were all raving about it! The flowers were better than I imagined or visualized myself, and the decorations were beyond what I had explained I wanted. Overall, Grouse Moor Catering did a phenomenal job at making our wedding day a dream come true, and something to be so proud to invite our guests to.
The music was provided by A Bride's DJ, with our DJ being Rob Cusic. He perfectly read the crowd and knew exactly what would keep the guests on the dance floor, singing way too loudly and having way too much fun. He also was able to bring it down to slow and more serious moments that all the couples at the wedding could really appreciate. We loved having him as our DJ and wouldn't have it any other way!
Hair and makeup was provided by Canvas Beauty Bar and they did such an amazing job. All of my bridesmaids, my mother, Wiley's mother, our grandmothers and flower girl all had at least one of the two done by one of the stylists. They made us all look natural and elegant with a wow! Sierra Mueller was my personal hair and makeup stylist and I wouldn't have it any other way. She made me feel so comfortable and understood exactly what I was wanting and turned it into something even better. They were perfect.
Our officiant, Pastor Seth Norris from Perkinsville Church in Boone was Wiley's family's minister for a long time. He met with us multiple times leading up to the wedding so that he could truly get to know our relationship and love for each other. He had us fill out questionnaires and do couple bible studies to really find the spiritual aspect of our relationship. He helped us pick the passages of the Bible, we wanted to incorporate into our ceremony, and made it entirely personalized. We loved it so much, and that he really knew us. He even cried during the ceremony as he joined us before God. It touched us so much and we were so thankful to have him be there on that day.
Lastly, the cakes were made by JoAnne Hallmark and she did such a delicious job! Our wedding cake was a tiramisu flavored cake with vanilla butter creme filling and vanilla frosting on the outside. She added a stucco texture to the cake and a waterfall of our flowers on the front center. She even dusted blackberries with gold and placed those onto one of the tiers with some pine. The grooms cake was also to die for. The cake was chocolate flavored with a strawberry puree filling and chocolate icing on the outside. She hand-dipped strawberries in chocolate and placed them all over the cake for a little extra. Both cakes were completely gone by the end of the night!"
We would also love to know your thoughts on our service.
"Anchored in Love Photography was something I didn't know I could ever find. I wanted the moments and emotions of our wedding day to be captured in a beautiful and natural way, and Kelly Edwards totally did. One of the most essential pieces of wedding planning is making sure the day can be captured in a way that every time you look back on the pictures or video, you remember exactly how you felt, or what you were thinking at that time. Anchored in Love took our breath away, and every time I look through the pictures (which is way more than I should!) I remember and I feel so much happiness and love. And apart from that, Kelly was so great about not adding any stress to the wedding day chaos – in fact, she actually calmed down a lot of what seemed so hectic. She made it essential that we, the bride and groom, were ultimately in charge and that it was our happiness that was more important to her. She even let us throw curveballs at her, like adding in a different kind of picture or group picture that we had not originally told her about. She handled everything so well and made everyone so comfortable and relaxed. Everyone loved her and the pictures! "
Did you DIY anything?  Tell us about all your special touches of your wedding day.
"We did a couple of DIY projects for our big day! All of the chalkboards were created by us: the greeting/welcome sign, the one by the s'mores gifts, the ones in each of the bathrooms, the one indicating guests could be seated however they pleased, and the one including our hashtag. We painted the frames and had the maid of honor write on them the day before.
The basket for our guests' cards or small gifts was also created by us: we bought a straw basket and "sewed" twine through the top of one side, adding a square cut out with a letter 'C,' 'A,' 'R,' D,' and 'S' as we went.
We provided little "freshen up" baskets in both of the bathrooms that contained deodorant, hairspray, safety pins, Advil, Tums, a few combs, lint rollers, and much more so that if our guests needed any 'saving,' we had them covered.
Our guest gifts were handmade bags of s'mores ingredients that they could either take with them or make right there at the wedding over the bonfires. We placed graham crackers, chocolate and marshmallows in each small and tied it up with a piece of twine and a handmade tag that had our initials and wedding date on it.
During the ceremony, we had 'unity sand' as symbolism of our joining in marriage. We each had a glass bottle with one color sand in it; either white or honey colored. During the ceremony, we poured our own sand at the same time into a large glass jar in order to symbolically mix the sand and make it so that we could never separate the sand again.
The bride's mother made necklaces for the maid of honor and each of the bridesmaids to wear during the day. The necklace was a thin sterling silver chain with a light pink pearl and their initial as charms.
One of the bridesmaids made snapchat filters for the day before and day of our wedding! The entire venue was able to snapchat with four customized snapchat filters she had made; they were beautiful and so thoughtful!
Lastly, one of my bridesmaid's mother made our guestbook for us. She is so talented and was able to make it so beautiful and vintage. She even provided us with a handmade sign and sign-stand, as well as flower pens for writing."
Now that your day is over are there any other thoughts or comments you would like to share?  We would love to hear about your wedding day in your own words.  Bonus:  We would love to hear about your Groom's favorite moments!
"It was such a gorgeous day, we were so blessed with the weather and sunshine! Everything was exactly how I had imagined it my entire life: the music, the flowers, the amount of love and joy we felt. I was so happy the entire time I just kept staring at Wiley and smiling. I was so nervous my fingers were a little swollen, and he had to literally jam the wedding band onto my finger which was hilarious – I think everyone laughed a little bit (don't worry, it fits perfectly now). And when his best man handed him an American flag bandana to wipe his tears I thought we were all going to lose it! The way Wiley dipped me when we finally kissed at the end of the ceremony was so romantic and made me feel like a princess. The entire day was exactly how I had hoped it would go and beyond. The ceremony was beautiful, sweet and romantic, and the reception was an absolute blast of a party! Nobody wanted to leave and that made us feel so happy and loved. We were able to see some of our loved ones we hadn't seen in a long time- and Wiley was able to meet some of my family that he had never met before, such as some of my aunts and uncles and my grandfather. I loved that the venue was such a wide-open area so that everyone could be a part of every aspect of our wedding: the cake cutting, the first dance, etc. It was the most amazing, gorgeous, fun, and unforgettable day of my life."
Is there anything you are so glad you did or any advice to future brides?
"We had the bridal luncheon the day that we were getting ready, which I loved! It allowed us to have all of the bridesmaids, our mothers and grandmothers and aunts and girl cousins to meet each other and have a mimosa to ease our nerves. It also allowed us to have some yummy finger foods before the big day began. My mother paid for all of my bridesmaids' hair to be done by Canvas Beauty Bar, which Ioved, because we all felt beautiful and pampered!
Our wedding was a destination wedding and so we blocked out a lot of rooms at one of the nearby hotels for all of our guests. We also put up signs leading our guests from the hotel to the venue (up the mountain) for guidance which really helped.
We were so glad we made the bathroom baskets for our guests because we had so many people telling us how relieved they were when they had a wardrobe or some other issue and were able to fix it with what we provided!
We had an open bar and our guests loved it! We almost ran completely out of everything by the end of the night! The bar was easily accessible as well. The entire venue was laid out in a way that everything could be seen from almost every angle. No one felt like they missed out on any big part of the ceremony/reception because of that, and we were so happy about that."
"Advice to future brides would be to start planning early. We started planning a little over a year in advance, and even though we could have done mostly everything in a much more scrunched time frame, we never once felt overwhelmed because of how much time we allowed ourselves. I even set 'due dates' for when particular things should be done by, which helped a lot – I was able to see what needed to be done when and what could wait a little bit, and it definitely prevented me from feeling like I was drowning in things to do. The Knot's planner and organizer helped a lot as well with this!
Advice about picking out your dress. It is such an exciting thing to try on dresses and pick one out that you almost rush yourself into doing it. If you don't feel that moment of knowing it is the perfect dress, don't buy it – instead, go home and sleep on it and allow yourself time to decide. Also, don't just try on dresses that you think you will like, try on all different kinds, there are likely styles of dresses that look amazing on you that you didn't even consider in the first place!
Lastly, go with the flow. There will inevitably be moments of panic and things that just don't go the way you wanted them to go. People are going to complain about things, and there is nothing you can do to stop that. Just relax, breathe, and remember it is your day! But remember to have fun, and know what your wedding really is at the end of the day- marrying the love of your life, and nothing (weather, stress, drama, etc.) should make that aspect anything but the happiest day of your life. "