Kara & Eric's Wilmington Convention Center Wedding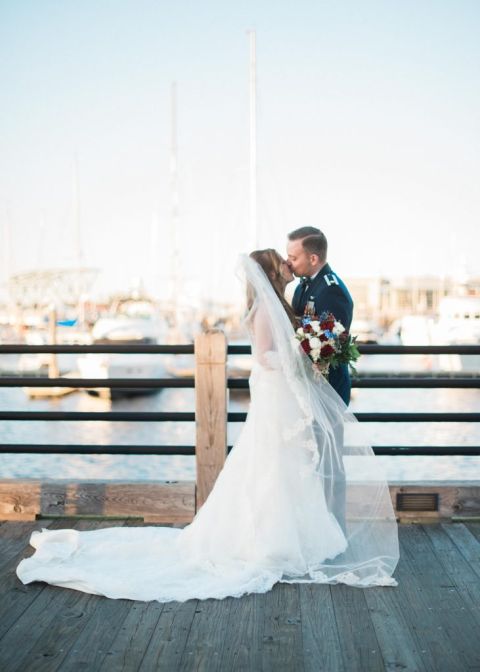 We are thrilled to share this beautiful wedding today on the blog!  Kara and Eric were the sweetest couple and we loved getting to know them and their wonderful friends and family.  Despite the winter weather, we were able to sneak out for a few photos of their first look and the bridal party by the Cape Fear River.  Kara's dress, veil, and bouquet were just breathtaking.  As always, Fiore Fine Flowers made the most stunning bouquets for the wedding.  The red bridesmaid dresses were also so stunning.  Possibly our most favorite yet!
One extra special element to their wedding was the baptism of their son during the ceremony.  What a cutie he is!  Another thing that we loved about this wedding is that Kara works with the deaf and she considered her friends who were present at the ceremony by having an interpreter come and sign during the ceremony.  Watching the interpreter sign the songs and prayers was so special!  On Thursday we are blogging their wedding highlight video and we can't wait for you to see the most special moment of all (in our opinions!)  Look out for our post to find out what it was 🙂  Kara & Eric were kind enough to give us some of their own insights into their wedding day:
We loved our vendors. Fiore Fine flowers did an amazing job, as did our baker Imaginary Cakes. The convention center was a pleasure to work with as well. I would have gone with a different hair/makeup artist team, but other than that it was great!

We loved working with you guys!!! Our wedding photos are beautiful. We cannot wait to see our video.

We DIY'd anything that was a paper product (save the dates, invites, menus, place cards, table names).

The best part of our day is that we felt completely carefree. Our wedding planner made everything so smooth that it wasn't until a week or two later we heard about any small problems that had popped up! All we remember was getting married and our sons Baptism. We felt like we had the perfect day.

Hire a wedding planner, even if just for the day of. Let yourselves and family enjoy your day and let a professional worry about the details!
A big thank you to all the amazing vendors:
Bubbly Events, Fiore Fine Flowers, Active DJ, Wilmington Convention Center, and Imaginary Cakes.